A 20-year-old policeman was accidently shot in his abdomen yesterday morning by a colleague while in the armoury of the Tactical Services Unit, Eve Leary.
A police source told Stabroek News that Constable Christopher Albert was accidently shot once by another rank as he was placing rounds into his .38 revolver. The men were about to go on duty from 7am. The rank was immediately rushed to the Georgetown Public Hospital where he underwent surgery. He is currently in a stable state.
The policeman who fired the shot is currently under close arrest.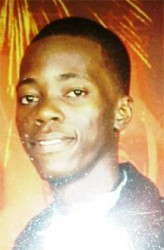 Commissioner of Police Leroy Brumell, when contacted, told this publication that while he would have to wait on full details from the Divisional Commander he understands that the two "were playing." He stated that he was told that the injured rank was in a medically stable state and was "going to be alright".
Albert's father Herbert McBean told Stabroek News that he received word of the shooting around 7am yesterday and he and the young man's mother Suzanne rushed to the GPHC.
He said he spoke to his son who told him that he was preparing for 7am duty and went to collect his weapon when the incident occurred. The father believes that the shooter was fooling around and is upset because he feels that ranks should know better than play around with guns.
"The boy say that they went to collect weapon and he(name of rank) put in one bullet and then pull and nothing ain't happen and then he put four more and he pull again and next thing he get shoot under he navel," McBean said. "He a mek plenty joke but he should know better…like he think he is a bad man because he pull one time that nah wuk he put four more ," he added.
Albert, who has been with the GPF for the past two and a half years, collapsed and was rushed by colleagues to the hospital.
His father said that when the bullet entered Albert's abdomen it exited through his buttocks. He is fully alert and speaking with visitors.
Around the Web