The policeman who accidentally shot a colleague in his abdomen while in the armory of the Tactical Services Unit Eve Leary Sunday morning deviated from the force's Standard Operational Procedure while handling guns, Home Affairs Minister Clement Rohee said.
"There are basic standing orders. There are standard operational procedures in respect of possession and use of firearm. There are SOPs for almost everything actions of a police… The rules are against horsing around with a loaded firearm and they are trained along those lines. So obviously this was a deviation from the SOP," Rohee said.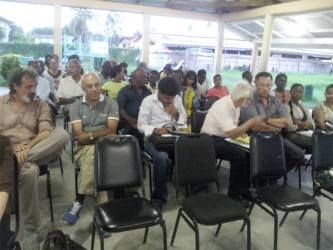 A police source told Stabroek News that Constable Christopher Albert was accidentally shot once by another rank as he was placing rounds into his .38 revolver. The men were about to go on duty from 7am on Sunday. He was rushed to the Georgetown Public Hospital and received treatment for his wounds since the bullet entered his lower abdomen and exited on the right side of his buttocks.
Commissioner of Police Leroy Brumell, when contacted, told this publication that while he would have to wait on full details from the Divisional Commander he understands that the two "were playing". He said he was told that the injured rank was in a medically stable state and was "going to be alright".
Rohee believes that the incident could have been avoided if the officer on duty had practiced what was taught to him and is in his handbook. "These things are there in print, in writing, there is a big, thick book and everything is clearly spelled out …Not that these things are not there, they are there," he said.
The policeman who fired the shot is currently under close arrest.
Around the Web