President Donald Ramotar yesterday appealed to the police force to be "even-handed" in crime fighting, saying there have been "too many complaints" that the protection of officers can be bought.
"Too many complaints come about people saying that police [are] taking sides with different people and, invariably, they say that those who can afford it, is those who have money, they take sides with… We cannot have effective policing unless people see that the police work is even-handed. The law must be blind and everyone will have the same consequences if they break the law. It is very important. The public must always have the opinion that the police are fair," Ramotar said.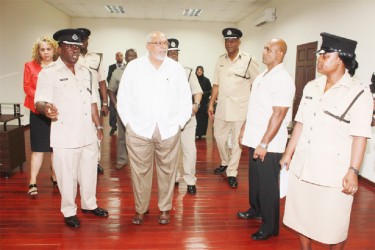 He was at the time delivering the feature address at the commissioning ceremony for the newly constructed $158.4 million Guyana Police Force Officers' Training Centre, at Eve Leary.
It is common for members of the public to complain that traffic police accept bribes from offenders or indirectly ask for money to buy food and drinks. Several members of the police force have also been prosecuted over the years for taking bribes to pervert the course of justice.
Ramotar urged officers to foster community relationships, noting that with a blemished image and negative snares from society, it becomes impossible for the force to function effectively.
"Effective policing, too, is directly correlated to good police relations within the community. We cannot fight crimes effectively without having good relations in the community themselves… that means that they must have confidence in the police force, that they must see the police as their friends to work with, to overcome difficulty and to bring criminals to justice," he said.
"If they are confident that their engagement with the force will be kept in confidence, then I am sure that they will work with the police effectively. The police must also carry out their duties in a very even-handed manner," he added.
He pointed to noise nuisance complaints by residents against businesspersons who seem to find favour with the police they are rarely ever prosecuted. "You have heard about shops blaring way down in the night blasting till 2, 3 and 4 in the mornings—things that are clearly against the law—but many, many communities still complain that nothing effective is done against these. You'll hear another complaint that if somebody has one event, maybe a wedding, that if they have some music, very, very quickly the police will come and take away their equipment… and people see these things as being taken advantage of," he pointed out.
He also pleaded with police to drop archaic ways of thinking when it came to domestic violence cases due to the rapidity with which offences end tragically.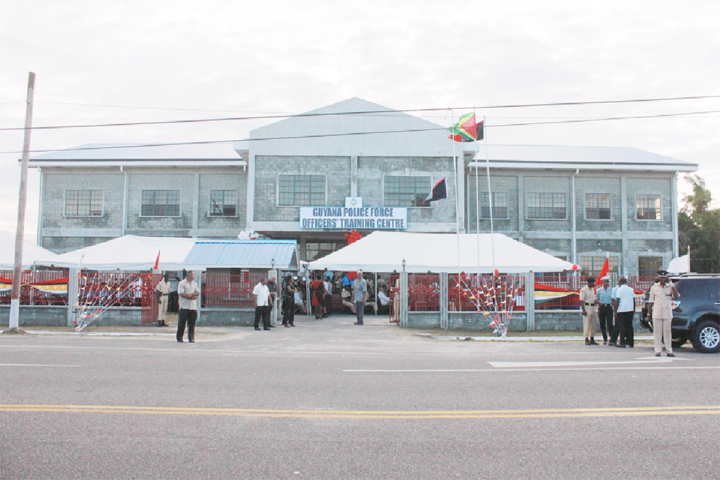 "Long ago, when a husband and wife fight, we used to say, 'Husband and wife cutlass is bend but don't bruk' …that is one we should do away with. We cannot look at those things as the personal business of a man and his wife… as it can potentially lead to tragic consequences," he said. "We need to have a new attitude in this regard and I hope that in the training of our officers these things will form a very important part of their courses not only at the macro level but in the household that people should feel safe from abusers," he added.
The President also noted that with the changing world and technological advancement, training today for police here is even more important as they have to gear themselves to deal with non-traditional crimes and be edified on identifying and dealing with cybercrimes, among others.
"Today's modern day demands on us are very, very huge because of the rapid development in science and technology. …There is a lot of interrelationships that are a big and important factor today…. it is logical that if we are going to succeed in the goal of managing crime, that we will have to build new capacity in our security force," he said.
"We have new types of crimes, many of which we are trying our best to deal with and it calls for new types of training and a police officer must now aim at being multi-disciplined because  you now have to fight crimes like money laundering crimes, like trafficking in drugs, which has now become very very sophisticated…cybercrime is becoming a growing concern in many parts of the world in the developed countries  and we here must be prepared here also for that we must be able to combat these types of crimes wherever we are confronted with them," he added.
He made reference to white collar property crimes committed on the poor persons who are anxious to own their own homes and are as a result swindled out of their savings by criminals purporting to be Ministry of Housing officials.
He said that he hopes that the new centre will help in the quality of police work, thus preparing officers for solving the many criminal cases that they face everyday.
The centre, which is located at the intersection of Camp Road and Carifesta Avenue, houses a modern auditorium with seating capacity of 230, a lecture theatre, an information technology lab, a library, offices and a storage area, among other things.
Around the Web