Akeem Sampson, the Guyana Defence Force (GDF) corporal whose decomposing body was found in his home last Friday, died as a result of haemorrhage and shock due to a fractured skill, according to an autopsy done on his body.
A release from the police said that a post-mortem examination was done on the man's body by Dr Nehaul Singh yesterday and that investigations are continuing into his death.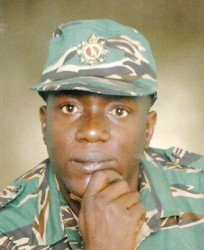 The decomposing body of the 38-year-old father of one was found in his Rewa Street, Lamaha Springs home, two days after he was not heard from or seen.
The body of Sampson called `Sammo' was discovered by his stepson with whom he lived.
The stepson had been forced to sleep in his car on Wednesday night after he could not make contact with the man and the house was in darkness. He returned on Thursday evening, but found the same situation.
He then broke down the door and made the gruesome discovery. Neighbours related that the man had a visitor on Wednesday night. His telephone had been plugged out.
Around the Web