The Guyana Elections Commission (GECOM) yesterday pushed back its statutory meeting until next  Tuesday because a legal opinion on whether Gocool Boodoo is eligible to re-apply and be re-appointed as Chief Election Officer is not yet ready.
Following the conclusion of a GECOM meeting last week where the matter of Boodoo's contract renewal was discussed, GECOM Chairman Dr. Steve Surujbally opted to put the matter aside until he consulted his legal team. The matter was to come up for discussion again at the meeting  yesterday but Surujbally had not yet gotten the legal advice sought on the matter, sources told Stabroek News.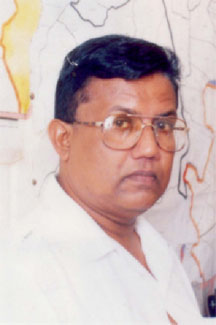 A letter sent by Attorney at Law Murseline Bacchus, representative for Boodoo, called on the elections commission not to conclude its deliberation on whether his contract is renewed until his performance appraisals for 2012 and 2013 are completed.
The letter dated June 6, 2013 to Surujbally stated that Boodoo was denied due process.
Bacchus said that in accordance with Boodoo's last contract from 2010 to 2013, a performance appraisal is to be completed and this will form the only basis on which the work of the CEO shall be measured.
The attorney said that this annual performance appraisal was never done in respect of the 2010 to 2013 contract and that no reason has been proffered for the omission.
"I maintain that performance appraisals must be the only basis on which the Commission considers Mr. Boodoo's letter of February 2013 indicating his interest in continuing to serve as Chief Election Officer. Mr. Boodoo cannot be held responsible, neither must he suffer any detriment for the failure to conduct and complete his performance appraisals within the requisite timeframe, especially since he duly notified you of his intention of continuing to serve…" the letter stated and pointed out that the responsibility of conducting appraisals resides with the Chairman.
Opposition Commissioners on GECOM are adamant that Boodoo must not be returned as CEO because of his role in the miscount of the final results of the November 28, 2011 general elections, almost giving a parliamentary majority to the PPP/C.
Around the Web