The Ministry of Health took its services to the Rasville community during a four-day outreach exercise held to commemorate the village's 33rd anniversary.
Residents benefited from visual inspection with acetic acid (VIA) screening, blood pressure and diabetes testing and other health services, a press release from the Government Information Agency (GINA) said. Medication was also provided to treat illnesses diagnosed and residents were given literature to inform them about certain medical conditions.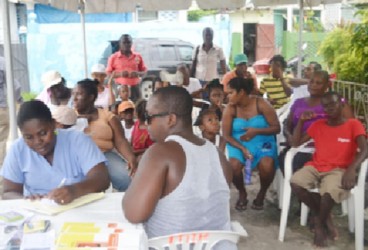 Inter-Ministerial Coordinator at the ministry, Seewchan said when the request was submitted to the ministry to host the exercise in Rasville, Roxanne Burnham Gardens to coincide with a five-day celebration, Minister of Health Dr Bheri Ramsaran gave his support.
"We're very pleased to coordinate, not only within the Rasville community, but other communities within the administrative regions to bring the kind of quality health care that is needed to the residents," he said.
Other medical practitioners will be going into the area to expand the scope of services offered, GINA said.
Meanwhile, pioneer of Rasville, Rolland Benjamin, said the community's anniversary will be celebrated over five days.
He also hoped that the medical outreach can become an annual event in the community as residents expressed appreciation for the service provided.
Around the Web