Minister of Natural Resources and the Environment Robert Persaud led a team from Guyana at a UNDP-organised convention in Rwanda where discussions centred on that country's efforts at solid waste management and explored the possibilities of sharing mining technologies.
The team travelled to Rwanda on an invitation from the United Nations Development Programme (UNDP) to participate in the "Rwanda Mission Conven-tion", a GINA press release said.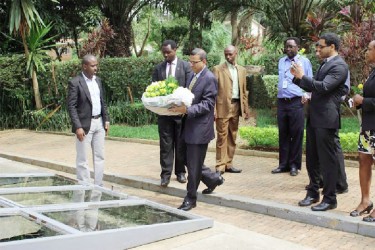 Persaud, along with UNDP Resident Representa-tive/ UN Resident Coordinator Khadija Musa held discussions with Stanislas Kamanzi, Minister of Natural Resources of Rwanda.
Rwanda's efforts to manage solid waste, enforcement of environmental regulations and even the banning of non-biodegradable materials were high on the agenda. Talks were also held on sustainable forest management and support for the development of Rwanda's newly emerging mining sector. The meeting also discussed the possibilities of sharing mining technologies and other support.
The Guyana team also paid respects to the victims of the 1994 genocide at the Rwanda Genocide Memorial Centre. The team included Collin Croal, Permanent Secretary, Ministry of Local Government and Regional Development; Denise Fraser, Deputy Commissioner, Protected Areas Commission and Alexei Ramotar, Project Manager, E-Government Guyana Project.
Around the Web