The Central Islamic Organisa-tion of Guyana (CIOG) has condemned attorney Hukumchand's insistence that a female Muslim remove her hijab before being cross-examined by him in a court matter.
The CIOG, in a press release issued on Thursday, said that a hijab is a customary garment worn by female Muslims as a means of protection and modesty, which is an act of obedience to God.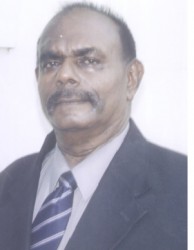 General Manager of the CIOG Shafdar Alli contended in the release that the act of the lawyer is a clear violation of the fundamental rights guaranteed by the Constitu-tion of Guyana that every citizen has a right to practice a religion of his/her choice.
This violation, the release said, "is an insult to the Muslim community."
The CIOG has issued a call to all right thinking human beings to support the woman on her stance to be cross-examined with her garment on.
This particular matter emanates from proceedings currently before the George-town Magistrates' Court in which the Muslim woman is a witness.
Meanwhile, in an invited comment to Stabroek News, Hukumchand, the lawyer for the accused, said that quite apart from freedom of religion, there is the need for the demeanour of witnesses to be observed from the witness box while giving testimony in court trials.
This, he said, is "a time-honoured principle in trials."
Hukumchand said that when the woman entered the witness box, he objected to her giving evidence in the matter on the basis that he did not know who he was cross-examining because she was fully clothed and her hijab covered her entire face so that only her eyes could be seen. Resultantly, he said, her demeanour could not be observed. "If she had taken off the hijab so that her face could be seen, that would have been alright," he said.
"I don't dislike Muslims, some of my best friends are Muslims and I usually get along well with them," Hukumchand added.
He contended that his objections were on strict legal grounds. He further went on to say that "quite apart from freedom of religion, the court has a mode of dress and that is what I was objecting to."
When asked by this newspaper if a woman who wears a hijab in court is a violation of the court's mode of dress, Hukumchand responded in the negative.
However, he said, "a hijab covering your face so that only your eyes are seen would be in violation as it conflicts with the principle of observing the witness's demeanour."
Around the Web