Farida De Souza, the 56-year-old woman who died after suffering three heart attacks while waiting over 12 hours for critical medical attention, was difficult to diagnose and treat, according to the findings of a Georgetown Public Hospital (GPH) review, which ruled out her survival due to damage to her heart sustained prior to her admission.
"…The overall damage to the heart muscle from years of diabetes and likely [two] days of a blocked heart artery was not survivable," was one of the key findings of the review, the GPH reported yesterday, over a month after De Souza's death.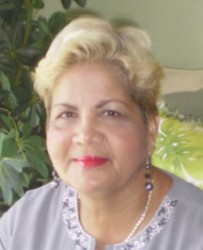 While blaming the woman's death on "cardiac complications of longstanding diabetes," the GPH did acknowledge that it "shares in the expressed concerns of the family regarding the hospital care" that she received.
A full and formal review of the care of De Souza, including interviews with staff, examination of medical records, review of all diagnostic studies and retrospective analysis of clinical decision-making, it said, indicated that De Souza's reported symptoms "began two days prior" to her presenting at the hospital and that "it did not initially include the classic clear symptom of chest pain."
The hospital said that this "delayed presentation and the "atypical" nature of the symptoms made her diagnosis and treatment more difficult."
It added that the development of a cardiac arrest due to an unstable heart rhythm—a common complication of myocardial infarction (heart attack)—was successfully treated by the staff of the Accident and Emergency (A&E) unit but the overall damage to the woman's heart was not survivable.
The GPH said while it is little consolation to a grieving family, diabetes and heart disease are increasing causes of death and disability among Guyanese and "silent" heart attacks which may present with nausea or weakness and occur more frequently in women and in diabetics, are particularly difficult to diagnose and treat.  "The effects of longstanding diabetes on the nervous system make heart symptoms difficult for patients to perceive, contributing to delayed presentations for care, and difficult for physicians to diagnose, contributing to poor outcomes compared to classic heart attacks with chest pain," it added.
De Souza was rushed to the GPH after she collapsed at her Albouystown home on May 13 around 11.30 am.  However, the woman's son Raul De Souza told Stabroek News that she was never really attended to until around 2.30 pm, when she was given saline and some blood taken for tests to be conducted.
The hospital yesterday said that its review found that "in spite of severe overcrowding" at the A&E, during which 17 patients were presented for triage within one hour of De Souza, she was assigned "an appropriate triage category of "Urgent.""
It said unfortunately no beds were immediately available in the A&E due to such high volumes of critical patients on that day.
However, it added that De Souza was evaluated by the A&E physician "within 90 minutes from the time of Triage, at which time laboratory investigations were ordered and treatments began to be administered."
Raul De Souza had told Stabroek News that after all of the saline was administered to his mother—sometime after 5 pm that day—she was told to go into the waiting area of the emergency room and wait for her test results. Although staff was told that the woman was uncomfortable sitting on the bench, they indicated that no beds were available. Around 10.30 pm the same day, she started complaining about chest pains and he alerted the nurses on duty but was told that they had to wait on the results after which the doctor would assess the situation.
Her test results were finally ready at 2.30 am on May 14 and after reviewing them the doctor indicated that she should do a chest x-ray, since he did not like what he saw. The woman was made to walk to the x-ray department without a nurse or a wheelchair. She collapsed just outside the department and had to be rushed into the emergency room on a stretcher. At that point, she was in a semi-conscious state. It was while in the emergency room that the woman suffered three heart attacks. Two minor ones followed by a massive one.
She was later admitted to the Intensive Care Unit (ICU) and placed on life support. She died the following morning.
The GPH said it would strive to improve the quality of Emergency Care, even in the face of overcrowding and limited resources. It noted that its residency training programme for doctors in Emergency Medicine in collaboration with Vanderbilt University is looking toward its first graduate later this year, with four others set to complete the programme in 2014 and this is expected to usher in a new era of emergency care provided by trained Emergency Medicine Specialists.
Around the Web