Government officials on Friday visited Region 10 where they met the families of the three Bosai workers who died in Thursday's horrific vehicular accident at the Bosai bauxite mine site and expressed condolences.
"We are still trying to grapple with all that is happening so we hope you would find the strength to cope and manage this. I'm sure we'll be able to look at lessons learned, nobody is ever prepared to accept death especially when it comes by way of accident," Minister in the Ministry of Finance Juan Edghill  told the mother of one of the victims, Kester Grant, a release from the Government Information News Agency (GINA) said.
According to GINA, Edghill led a government team visiting the homes and offering comfort to the families of the men, having a first hand look at the scene of the accident and holding a meeting with officials of Bosai.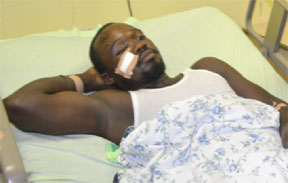 A driver, Michael Williams, 43, of Coomacka Mines; heavy-duty mechanic, Trenton Garner, 62, of Lot 12 Industrial Area; and Kester Grant, 20, of Block 22, Wismar were killed when a small pick-up slid under a truck it attempted to overtake on the company's internal road located in the East Montgomery Mines in Linden. Fabian Anthony and Marlon Pollydore were injured and hospitalised nursing a broken pelvis and leg and eye injuries respectively. Both men remain in the Intensive Care Unit of the Linden Hospital in stable conditions.
The release stated that the minister said accident was "sudden and untimely" and appealed for understanding by persons affected even as he expressed shock at the accident site.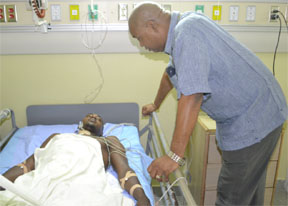 Bosai's management related that they were in constant contact with the survivors' medical team and pledged to do all that they can to ensure their well-being.