The Housing Ministry has recently seen a "mad rush" by house lot applicants who are seeking available housing options in addition to land allocations, Minister Irfaan Ali said on Friday, while giving an update on the ministry's upcoming fourth International Building and Construc-tion Exposition.
"So we are developing models to cater for every segment of the market from $4.9 million to $19 million inclusive of land and house," Ali told a news conference at the National Stadium.
According to a Government Information Agency (GINA) report, he explained that persons who have applied for house lots have been seeking to upgrade from land allocations to either the turnkey home, which is $4.9 million, the young professional homes which are being developed at a cost of $8 million, and a third level for high-income professionals for about $19 million.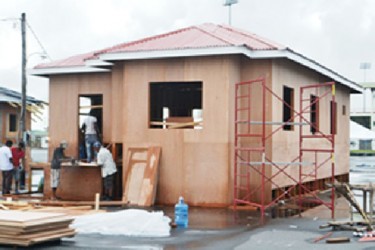 Ali added that the ministry's approach is not only to make housing more available, but to ensure home ownership and family development. "We are moving from just the allocation of lands, to the provision of homes and furnishings, and to ensure we use the old economic model of economies of scale and demand supplies to bring the cost down and make it more affordable," the minister was quoted as saying by GINA. He added that there has also been a dynamic shift in the private sector focus, in terms of having gated and high-end communities available. This, he said, is a result of the changing income levels in the country. "You have a growing middle class, upper-class and persons wanting different levels of development and these are where the private developers come in," he further said. According to GINA, the ministry has also established partnerships with hardware companies and has been working out an arrangement with Courts in terms of having home furnishing available to persons.
It noted that the upcoming expo, to be held at the stadium from July 5 to July 7 under the theme, 'Consolidating Partnerships for Sustainable Development', promises to bring together a range of local and foreign building and construction materials, models of houses and other home related services.
There are also 28 corporate sponsors, 103 exhibition booth spaces that are already taken up and 10 foreign companies, from countries including Trinidad and Tobago, Suriname, Brazil, Venezuela, Canada, the United States, China, India and Malaysia, GINA said.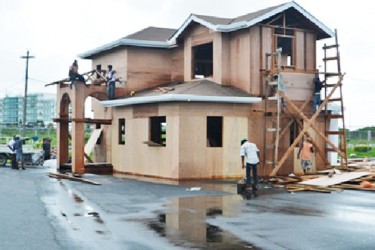 It added that the expo is geared to highlight the investment and building opportunities available for the public, not only in the building and construction sector, but home furnishing and interior decoration, among other things.
Ali, GINA noted, described the event as a forum that is educational, creates business opportunities and expands trade, while bringing the private sector and the government closer in collaborating towards meeting the needs of the people.
It added that there are three full-scale models of homes that will be built for the expo so that attendees can have a first-hand view of homes that they can own.
The centrepiece for the event will be "Silica city," which GINA said it expected to take residential housing to higher grounds.
Ali was reported as saying that when the ministry announced this initiative, there was scepticism about how many persons will buy into it, nevertheless the public response has been enormous.
"The area that is earmarked for this initiative is Kuru Kururu, Linden-Soesdyke Highway, on an area covering 27, 000 acres and the initial development will to be around 500 acres," GINA noted.
Around the Web