Foreign Affairs Minister Carolyn Rodrigues-Birkett has said that Iran's mapping of Guyana's mineral resources has been shelved but this has nothing to with allegations that Tehran was setting up terrorist cells here.
"The Iranians have promised that they will map our natural resources. It was a number of years ago but we didn't move far with the whole issue because there are other countries that are also more experienced in this area… it has nothing to do … with this matter… we just didn't move far with that," Rodrigues-Birkett told Stabroek News.
In one of his several outreaches to the Middle East as a counter to thorny relations with the west, former president Bharrat Jagdeo had struck a deal in 2010 with Tehran for a mineral mapping exercise.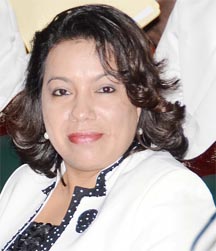 Since November 24, 2010 when there was a visit here by a delegation from Tehran headed by Deputy Foreign Minister Behrouz Kamalvand, nothing else has been heard about the exercise. The delegation had met Jagdeo during the trip and had stated that the mineral mapping was going ahead.
This deal had raised eyebrows here because of Iran's international isolation over concerns that it was developing a nuclear weapons programme. Given Guyana's uranium deposits there was a view that any Iranian involvement in mineral mapping here would put this country at risk.
Last month Argentina's State prosecutor Alberto Nisman, during an update of his investigations into a 1994 bombing of the Jewish (Association Mutual Israelita Argentina) centre that killed 85 persons, accused Iran of establishing terrorist networks in Latin America dating back to the 1980s and said he would send his findings to courts in the affected countries. Argentine courts have long accused Iran of sponsoring the attack.
In a 500-page-long document, Nisman cited what he said was evidence of Iran's "intelligence and terrorist network" in Argentina, Brazil, Paraguay, Uruguay, Chile, Colombia, Guyana, Trinidad and Tobago and Suriname, among others.
He referred to the case of former PNCR MP Abdul Kadir, who was jailed for life by a New York court in 2010 for his role in a plot to blow up the John F Kennedy Airport as a nexus to substantiate his claims.
Asked if in the light of  Nisman's allegations government was still keen on having Iran map this country's mineral resources, the Foreign Affairs Minister would only say "We did not move very far on that."
Rodrigues-Birkett said that on learning of this claim by the Argentine prosecutor, Guyana wasted no time in requesting information to substantiate it. She said that this information was promised and the country is awaiting documentation from Argentina. "I met with the Minister of Foreign Affairs [Héctor Marcos Timerman] and requested the information… he has promised to supply the information they have," she said.
However, she was quick to point out that Timerman had explained that the state prosecutor's claim might not be that of the Argentine government. "He was very clear in saying too it is not necessarily the government of Argentina's position as there is a separation of powers…but we are going to await that information which was promised to us," she said
Head of the Presidential Secretary and Cabinet Secretary Dr Roger Luncheon has said that no concerns have been raised with the Guyana government about the setting up of terrorist cells here.
Luncheon said that the allegations which surfaced from the disclosures made by the Prosecutor from Argentina "were the first that were being brought to our attention indirectly."
He further stated that neither the Argentine government nor international bodies have submitted to the government of Guyana "in any official way that they have evidence or concerns about setting up of terrorist cells by Iran in Guyana."
Around the Web