Relatives of Akeem Sampson, the Guyana Defence Force (GDF) corporal who was found dead in his Lamaha Springs home last Friday, are now convinced that he was murdered following the post-mortem examination which stated that he died of a fractured skull.
Sampson's relatives are convinced he was killed and were of the view that the woman he was in a relationship with had committed the act. They said that the woman and Sampson's stepson had been detained by police. However, efforts to make contact with Crime Chief Seelall Persaud for a comment on the matter were unsuccessful as calls to his phone went unanswered.
Sampson's sister, Fiona Simon, told Stabroek News she believed her brother might have been murdered by more than one person because he had military training, was big in size and was capable of fending off an attacker. Sampson died as a result of haemorrhage and shock due to a fractured skill, according to an autopsy done on his body. The decomposing body of the 38-year-old father of one had been found in his Rewa Street, Lamaha Springs home two days after he had not been heard from nor seen.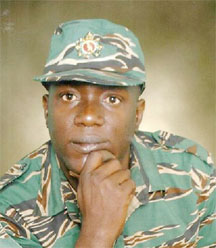 According to Simon, her brother and the woman had had an argument on Monday at the police hut, located at the entry point of Lamaha Springs, where he had been working. She could not say what had caused the argument but noted that on Wednesday the woman had still gone to her brother's house. Simons said, "It's surprising that they arguing Monday and she went back Wednesday."
Neighbours had said that the man had a visitor on Wednesday night and his relatives believed that it was this visitor who killed him. Simon also said that the key to the house could not be found and the locks had to be changed. She could not say whether anything was missing from the home because she did not know what was inside. She also stated that they had not heard anything from the woman since her brother had been found dead.
The body of Sampson called 'Sammo' was discovered by his stepson with whom he had lived. The stepson had been forced to sleep in his car on the Wednesday night after he could not make contact with the man and the house was in darkness. He returned the next evening and found the same situation after which he broke down the door and made the gruesome discovery.
Sampson's lover was described as an aggressive person and was in the habit of "handling" him, according to his relatives. They said the woman was controlling and had even stopped him from talking to some persons when they were together. Sampson's relatives are calling on the police to thoroughly investigate the matter so that they can get justice.
Around the Web