Twenty-two-year-old Sandy Jackman who had a noxious substance thrown in her face on Friday night will lose one of her eyes, relatives said yesterday.
According to the woman's mother, Karen Jackman, she is to undergo an operation today which will see one of her eyes being removed. She said that the young woman has managed to open the other eye but she is "barely seeing."
The young woman, she said, is still in a lot of pain and she is traumatized by the incident that has changed her life forever.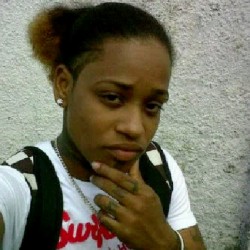 "Right now she can't really stand up on her own, she is very nervous too," the mother said.
The substance was thrown in the young woman's face on Friday night at Cummings and Sixth streets, Alberttown by a man on a bicycle.
The man reportedly rode up to Jackman as she was walking along the street and threw the substance in her face.
Her mother, who vends on the street, had stated that she was at her stand selling when her daughter came and collected some containers. Jackman had just left with the containers when she  heard her screaming and saw her running back towards her crying for help. She rushed to her daughter and saw her face disfigured.
Jackman was taken to the hospital and her mother said she sustained injuries to the left side of her face and chest.  The woman had said her daughter could not identify her attacker, because the incident occurred very quickly. She was also not aware of Jackman having any problems with anyone.
She said the police are yet to make a breakthrough in their investigation.
Around the Web