Guyanese Ivelaw Griffith, an expert in Caribbean security issues, has been named as the next president of Fort Valley State University in middle Georgia, USA.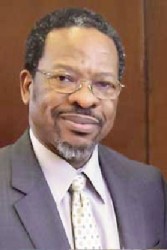 The Associated Press reported that Griffith is currently the provost and senior vice president at York College of the City University of New York. He was the sole finalist, and the board's vote on Friday was unanimous, AP said.
University officials say Griffith has served in his current position since 2007 and has upped the number of full-time faculty at York College by 30 percent, reorganized the academic division and set up an undergraduate student research programme.
Around the Web