A popular Corentyne businessman was robbed of $5.5 million when armed bandits attacked his employee who was carrying the cash on the Albion access road, around 1:50pm yesterday.
One person is in police custody assisting with investigations.
The victim of the robbery, D Arjune, also known as 'Crook' of Fryish Village, Corentyne, Berbice, owns a poultry farm at Chesney Village, Corentyne and operates a poultry outlet at Belvedere and Number Two Village, Corentyne.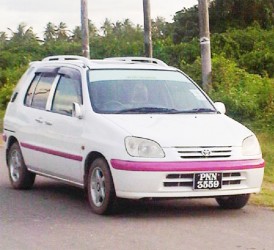 Police sources told Stabroek News that the employee Zamin Zakeer, 43, of Chesney, Corentyne, was driving along the Albion access road in his white Toyota Raum car PNN 3559, when he was forced to stop by the armed men. The source said the two men were driving a silver grey Toyota Allion PRR 855 and they drove into Zakeer's lane causing him to stop. The armed bandits exited the car and approached Zakeer.
According to reports, they sprayed a substance on him and took away his car keys along with the $5.5 million that was in a backpack.
Stabroek News understands that Zakeer was on his way to the bank to deposit the huge sum of cash for his employer.
When Stabroek News arrived on the scene, the Toyota Raum was still parked on the Albion access road.
Additionally, lawmen found the car which was used by perpetrators at Number 60 Village, Corentyne, Berbice.
This publication was told that the car was a rented car from South Beach Car Rental of Number 60 Village. Relatives of the owner of the car rental indicated to Stabroek News that the car was rented to unknown persons around 10.30 am yesterday. Some hours later, the persons returned the car, but left it a few rods away from the rental showroom. Relatives said the men were in a hurry and told the person in charge of the rental that they were busy and had to go.
Meanwhile, Arjune said he believed the police could have stopped the perpetrators if they had set up a road block at Number 51 police station, after a report was made. He said he had been robbed more than once and then declined to say anything further, commenting that the media cannot help him.
Police investigations are continuing.
Around the Web