The two compactor trucks that were donated to the Mayor and City Council (MCC) last month by the Ministry of Local Government are not working owing to electrical problems.
The disclosure was made yesterday at the council's statutory meeting after Deputy Mayor, Patricia Chase-Green, inquired about the position of the trucks. The trucks were never used by the council and are experiencing an electrical problem, sources close to the council told this newspaper.
The compactor aspects of the trucks was seen parked in the council's compound yesterday while the cabins, where the problem exists, are believed to be under repair. The trucks were purchased by the ministry with the entire $20 million subvention given to the council by government last year the source said.
Councillor Kamla Ross, raised the concern that the trucks were purchased from the same supplier, even though they had experienced problems with this particular supplier before. She said when situations like these occur it is the ordinary people like her who suffer. The trucks were donated to assist with the garbage situation in the city.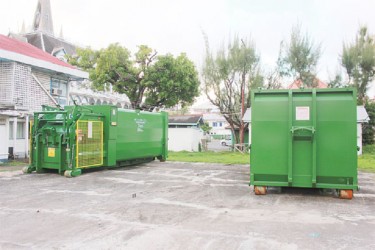 But Acting Town Clerk Carol Sooba said that the trucks were purchased based on recommendations from the Engineer's Department. She also said that the compactors for the trucks are new. Mayor Hamilton Green stated that the trucks' cabins are not new.
The two cabins have been sent back to the supplier for repairs, the source said. The council also has to train persons to operate the trucks because they are electrically controlled, the source noted.
Green told Stabroek News, in an invited comment, that he had warned the Town Clerk about purchasing trucks and not having the necessary personnel to repair and operate the vehicles. When asked if the council has the personnel to repair the vehicles should the need arise, he said he was not certain.
Around the Web