Raul De Souza, the son of the woman who died at the Georgetown Public Hospital after suffering three heart attacks during an over 12-hour wait for critical medical attention, is disappointed with the explanations given about her care, including that she was beyond saving owing to prior damage to her heart.
"I am not pleased with this nonsense. Why can't they come forward and take some of the blame," the upset De Souza told Stabroek News yesterday, while charging that the hospital is just trying to cover up the negligent actions of its staff in the treatment of his mother, Farida De Souza.
In an invited comment, he also said that he was shocked to read about the findings of the hospital's review of his mother's case in last Saturday's edition of the Stabroek News, especially since he had not been contacted to identify the nurses he had accused of negligence. "I wasn't even allowed to identify the nurses. They were to call me back. It was always an excuse," he said, while explaining that one point he was told that he would have to go at night since the nurses were on the night shift. They would have been on that shift for a one-month period.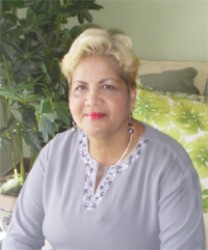 According to the hospital's review, which was released last Friday, the 56-year-old woman was difficult to diagnose and treat.
"…The overall damage to the heart muscle from years of diabetes and likely [two] days of a blocked heart artery was not survivable," was one of the key findings of the review, which was released more than a month after her death and her survival was ruled out due to damage to her heart prior to her admission.
"Cardiac complications of longstanding diabetes," was blamed for the woman's death.
Commenting on this, Raul said that prior to his mother collapsing at her Albouystown home, she did not complain of chest pains. This complaint, he had said, was made around 10 pm on May 13. She was rushed to the hospital around 11 am that day.
He stressed that the staff on duty knew that his mother had diabetes because they were told when she was taken to the hospital. He added that he and his relatives never knew she was suffering from a heart condition.
'Nothing'
According to Raul, the hospital is using diabetes as an excuse to protect itself. He said that his mother was once a patient of the institution's foot clinic and there would be records to verify this. He said it was even more important for her heath status to be revealed to staff because she previously had her toes amputated and because of her diabetic condition could not use certain medication.
He also questioned the hospital's position that there were no beds available for his mother in the treatment room of the Accident and Emergency Unit, noting that after she collapsed "they suddenly find a bed. How can they find a bed when you claimed that you had 17 emergency cases and they there was no space. Wasn't she an emergency case?" he questioned.
The man recalled that among the patients that day was a drug addict who had a wound to his foot and was lying on a stretcher in the treatment room. He queried why the same was not done for his mother.
He added that when De Souza collapsed around 2.30 am on May 14 and was rushed back to the treatment room, suddenly there were doctors all around her.
Raul also pointed out that the hospital failed to address why it took over 12 hours for the results of his mother's blood tests to be made available and why she was made to walk from the treatment room to the x-ray department to have a chest x-ray done, when she had complained of chest pains.
"This is total nonsense. For 12 hours they did nothing. Nothing could not have been done when she had already collapse[d]," he said adding that by that time the damage had already been done.
Raul is now exploring his options on the way forward.
A full and formal review of the care of De Souza, including interviews with staff, examination of medical records, review of all diagnostic studies and retrospective analysis of clinical decision-making, the hospital said, indicated that De Souza's reported symptoms "began two days prior" to her presenting at the hospital and that "it did not initially include the classic clear symptom of chest pain."
The hospital said that this "delayed presentation and the "atypical" nature of the symptoms made her diagnosis and treatment more difficult."
It added that the development of a cardiac arrest due to an unstable heart rhythm—a common complication of myocardial infarction (heart attack)—was successfully treated by the staff of the Accident and Emergency unit but the overall damage to the woman's heart was not survivable.
The hospital said while it is little consolation to a grieving family, diabetes and heart disease are increasing causes of death and disability among Guyanese and "silent" heart attacks which may present with nausea or weakness and occur more frequently in women and in diabetics, are particularly difficult to diagnose and treat.  "The effects of longstanding diabetes on the nervous system make heart symptoms difficult for patients to perceive, contributing to delayed presentations for care, and difficult for physicians to diagnose, contributing to poor outcomes compared to classic heart attacks with chest pain," it was stated.
Raul had told this newspaper that it was after being rushed to the treatment room after the collapse outside the x-ray department, his mother suffered three heart attacks, the last being a massive one which cause extensive damage to her heart. He had said that this was the explanation given to him by the staff. She was later admitted to the Intensive Care Unit, where she died the following day.
Around the Web