UG staffers yesterday staged the first of what is to be a week-long series of picketing action on the university's Turkeyen campus to protest a myriad of issues including the tardiness with which their salaries are paid and the non-payment of NIS and other contributions and benefits.
"We are not asking, we are demanding that our gross salaries be paid, that all our benefits be paid, that all our contractual contributions be paid. We the staff members are fulfilling our side of the bargain, we are performing all duties that have been assigned and we will not accept… the non-payment of our benefits," said Dr Melissa Ifill, President of the University of Guyana Senior Staff Society (UGSSA), during yesterday's demonstration.
A small number of staffers congregated at, then moved off from the university's administrative building, but by the time the picketing procession had traversed the various faculties and returned to the rendezvous point, the number had grown significantly as other staffers joined in as the picketing procession passed their respective faculties.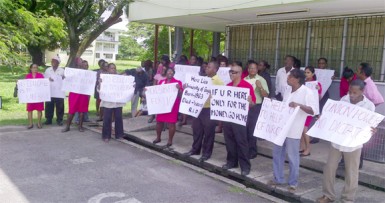 Noting the number of persons who turned out relative to the number of staff members who are continuously affected by the "chronic" financial woes of the university, Dr Patsy Francis, President of the UGSSA, said some persons may have opted to stay away after being paid last week.
UG staff members were livid last week after they learned, via a circular, that for the second time in two months they would not be paid their salaries on time (the third Thursday of the month).
According to the circular, the university had not received adequate funding and to pay all its staff and opted to withhold payments altogether as opposed to paying some and not paying others.
Though promises were made to have payments made by this Tuesday, Vice Chancellor (VC) Jacob Opadeyi was able to secure additional funds and the university made the payment by 15:30 hrs last Friday.
"We have to struggle, we have to struggle against it, nothing is going to happen if we don't struggle, nothing," Francis said during a brief rally after the picketing procession came to an end.
Meanwhile, Ifill made it clear that the demonstrations were no longer just aimed at ensuring the timely payment of their salaries, but also all of their benefits and contributions which the university has not been paying for some time.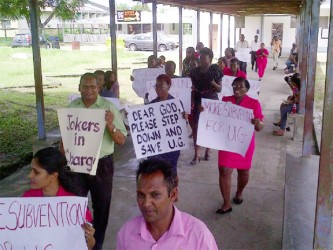 "Our NIS must be paid, our taxes must be paid, our credit union dues must be paid. In fact some of them aren't even dues, they are contributions, savings, and they are not remitting the savings to the relevant bodies. Our health insurance must also be paid," Ifill stated.
Ifill also said that there were instances where staff members who got ill spent their own money to improve their health but were told that the university had not made the necessary contributions when they tried to recoup the amounts.
"It is unacceptable and we will not continue to work under these conditions," she declared.
Ifill said Opadeyi had expressed to her via email that he was in support of their attempts and would have participated himself if he was around.
"…He also indicated that he believes that this is the only strategy that will take the university from where it is to where it needs to go," Ifill related.
In return, she said, the employees recognise the fact that Opadayi himself is constrained in the options available to him and can only do so much.
Despite this recognition, however, Ifill said the VC accepted the position he now holds and therefore must work to craft a strategy to take the university to where it needs to be.
She explained that the picketing exercises will last until Friday, and said that Opadeyi and the university's administration have until then to provide a proposal and a timeline for how and when they intend to start making the payments.
Failure to do this, Ifill said, will result in a lawsuit which will be brought upon the university by the UGSSA and the University of Guyana Workers Union (UGWU). She added that other forms of industrial action may be added to the unions' arsenal if they do not receive a favourable response from the university by Friday.
Such actions may include staging off campus pickets, according to one union member.
Until then, however, the employees are limiting their industrial action to picketing during their lunch break.
"This week we are working to rule (performing the responsibilities in their terms-of reference) while picketing but are not ruling anything out as it relates to additional industrial actions to be taken," Ifill said.
Around the Web