Chairman of the Guyana Elections Commission Dr. Steve Surujbally said that there was no decision made yesterday with regards to the renewal of the contract of Chief Election Officer Gocool Boodoo since there was no quorum to enable a meeting.
However, according to one Commissioner, the Commission may convene a meeting tomorrow or Friday to address the matter of Boodoo's contract renewal.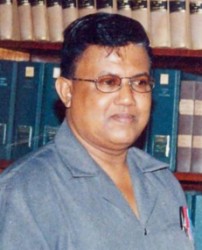 Because of the absence of People's Progressive Party/Civic (PPP/C) Commissioner Jaya Manickchand and the early departure of Dr. Keshav Mangal , the Commission did not have a quorum to convene yesterday's scheduled meeting.
"We are trying to meet on Thursday or Friday," one Commissioner told this newspaper. "We do not discuss these matters without all of the Commissioners being present," said the Commissioner who spoke with this newspaper.
Surujbally said, "We are following due process and emphasising transparency and a decision will be made hopefully unanimously."
A letter dated June 6, 2013 sent by Boodoo's attorney had called on the elections commission not to conclude its deliberation on whether his contract is renewed until his performance appraisals for 2012 and 2013 were completed.
The lawyer said that in accordance with Boodoo's last contract from 2010 to 2013, a performance appraisal is to be completed and this will form the only basis on which the work of the CEO shall be measured. According to the letter, this annual performance appraisal was never done in respect of the 2010 to 2013 contract and that no reason has been proffered for the omission.
The letter said Boodoo was denied due process. At a meeting of the Commissioners on June 11, 2013, Surujbally opted to put the matter aside upon receiving the letter so that he could seek legal advice.
Around the Web