Representatives of the German Government yesterday handed over two vehicles to the Ministry of Natural Resources for the Protected Areas Commission.
A release from the Ministry of Natural Resources and the Environment said that a mission from the German Development Bank, KfW, is currently in Guyana to discuss progress under the current Guyana Protected Areas System Project (GPAS) and to firm up plans for the upcoming third Phase of GPAS. As part of their activities, the KfW team handed over two vehicles worth a total of $16.5M to the Protected Areas Commission.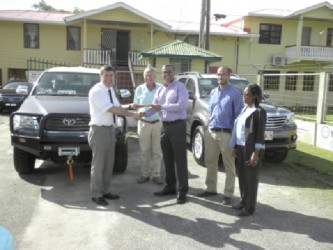 The release said that the vehicles were purchased under the Euro 5.15M allocated for the GPAS Phase Two project. Of this amount, the release said that Euro 4M is as an endowment to the Protected Areas Trust Fund under the Protected Areas Act 2011. The remaining funds are for the establishment of the Protected Areas Commission offices and the crafting of infrastructure management plans in key protected areas. The release added that the ministry is working with KfW to conclude arrangements, which would enable the construction of the PAC offices – at a value of almost $30M –  to begin within the next two months.
Discussions have also started with the KfW Mission on concluding the implementation framework for the upcoming Phase Three, which will see Euro 4.3M going towards protected areas management, infrastructure, and community initiatives. It will also bolster environmental management capacity in key areas. The release said that this phase is expected to be implemented over a five-year period, beginning next year.
This is the latest in a long history of cooperation between Guyana and Germany which began in 1996, the release said. "GPAs Phase One supported sustainable livelihood projects in over thirty Amerindian communities associated with Shell Beach, Kanuku Mountains, Kaieteur National Park and the Upper Mazaruni. This initiative also led to the drafting of the National Protected Areas Act, delineation plans for both the Kanuku Mountains and Shell Beach Protected Areas, and a draft Kanuku Mountains Management Plan", the release added.
Around the Web