Nigel Rodney, the husband of the 28-year-old woman who died in childbirth at the Georgetown Hospital earlier this month says that he is disappointed that hospital officials reneged on their promise to contact him on any developments in the investigations and more so that he had to read in the media that the investigations had been completed and an obstetrician sent on leave.
Rodney, now left to raise their four year old daughter alone, noted that he is also frustrated because up to now, he cannot get the post-mortem results for his wife so that he can get her death certificate. His unborn child also died.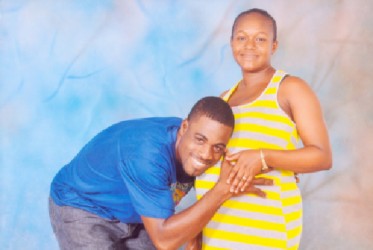 He is now unsure how he is going to deal with how the hospital has treated him and how he is going to come to grips with the possibility that he may never get the answers that he seeks.
Luan Rodney died on June 4, just hours after a cytotec pill was inserted into her to bring on labour. This was done because she was long past her due date which was given as May 22. Her husband had repeatedly said that the staff were negligent as Luan was not being monitored and that they only sprang into action when it was too late.
Contacted yesterday, the man told Stabroek News that after he buried his wife and unborn child, he went to Berbice to relax a bit. He said that now that he has returned home he will be going to the institution to enquire about the post-mortem results and the testing of the samples which were taken from her body.
"Up to now I have not heard anything from anyone", he said, noting that during his last meeting with hospital officials they told him that they will call him when the investigation was complete. His contact details were taken.
He said that subsequently he was shocked when he saw several newspaper reports; the first being that the hospital had completed its report and another that staff had been sent on administrative leave.
"I am disappointed. I should be the first to know what is happening …but I was the last. I had to read it in the media", the still grief stricken man, who has been unable to work since the deaths, said. Rodney is a brush cutter operator and gardener by profession and is the sole bread winner for the family.
Commenting on statements made that specimens were taken from her body during the post-mortem to see if there was anything wrong with her prior to death, Rodney said that he cannot understand that since his wife went to clinic for nine months without a problem. "If something was wrong they would have picked up something", he said.
Speaking about his surviving child, he says that she knows that her mother and the baby are never coming back but she still asks questions. Rodney said that his mother and siblings who live nearby help to take care of her. He said that very often he has to force himself not to think about Luan. Rodney said that many days he questions why things happened the way it did.
He noted that the mere fact that someone was sent on leave is a sign to him that the authorities believe that there was negligence involved.
"I am just waiting to see what will happen… I didn't beg for this. I could have been walking out with my baby…" he said.
Around the Web