The captain of the boat that collided with a stationary vessel at Supenaam Creek, Essequibo River, resulting in a man's death, has had his licence suspended, pending the outcome of an investigation into the incident by Maritime Administration.
Ganesh Roopnarine, 32, of Barnwell, East Bank Essequibo, who had stopped to fix his malfunctioning engine, died in transit to the Suddie Hospital shortly after being taken there in an unconscious state after the June 14th accident. He was officially pronounced dead when he arrived at the hospital.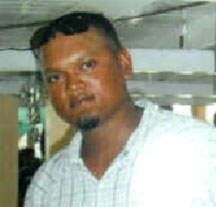 Passengers of his vessel had told Stabroek News that his boat engine had malfunctioned and he stopped to check on the problem when the other vessel struck the bow of boat, tossing him in the river. He suffered several broken bones and internal injuries.
Maritime Safety Director Stephen Thomas told Stabroek News that his agency is still carrying out an investigation into the accident and that the licence of the captain of the vessel that hit Roopnarine's boat has been suspended. "We have investigated and are currently putting together our report… it is difficult to say how soon the report will be completed because we try to structure our investigative work with our many duties," Thomas said.
Around the Web