Confronting falling prices for gold which briefly dipped below US$1200 per ounce yesterday, the Guyana Gold and Diamond Miners Association (GGDMA) is seeking government's intervention to mitigate the effect of the tumbling price.
"It is our opinion….that the burden must now be shared," Head of the GGDMA, Patrick Harding told the Annual General Meeting of the GGDMA to which he was returned unopposed as president yesterday. He also called on those businesses that profited from the industry when the price was higher to offer concessions to the industry.
Reuters reported yesterday that gold briefly sank to below $1,200 per ounce for the first time in nearly three years on Thursday as investors continued their relentless selling into a ninth straight session, betting on the U.S. Federal Reserve curbing its bond buying. Gold is down over 28 percent for the year and is headed for its worst quarterly performance since at least 1968, the news agency reported.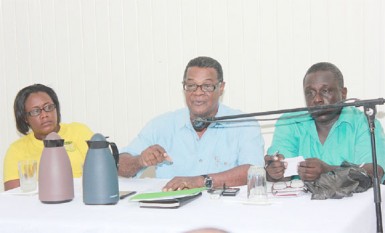 Harding said that they will engage Minister of Natural Resources and the Environment Robert Persaud to see what concessions they can get for fuel. "Fuel is our major cost of production," he later told reporters adding that they would like a 50% reduction in duty for fuel.
Asked the likely consequences should they not gain the concessions they want, Harding said that some miners would fail. "Some of the smaller or the new entrants in the industry will not be able to meet their commitments," he said. "I don't think more than 5% (of miners) will be affected," he responded when asked about the size of those likely to face this consequence.
Earlier, he noted that they have also been asking for some concessions but these have not been forthcoming and it was time for the minister to deliver. The GGDMA president also noted that when the price of gold was higher, everyone befitted and called on their suppliers and service providers to provide some concessions.
One miner, Afro Alphonso said that it was time that small miners garnered some concessions saying that local miners have not benefitted over the years. He stressed that he has nothing against foreign miners but local miners pay taxes upfront and "when the locals make the money here, it stays here."
Harding had mentioned that since November last year, miners had not gotten any foreign currency from the gold board and despite speaking to the authorities, nothing has happened. He again called on the minister to do something. Alphonso said that the gold board should pay this out even if not 100% at least a percentage. He said that while the price of certain supplies had not risen overseas, in Guyana the prices have risen 500%.
Furthermore, he identified a particular equipment supplier which he accused of "price gouging." The company, the miner charged, are "fleecing" miners. He said that they have to pay exorbitant amounts to diagnose and repair excavators and some of the parts supplied are inferior and the warranties not honoured.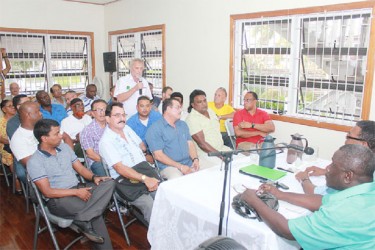 Another GGDMA executive member, Dabria Marcus said that they are carrying out an investigation to determine if there is price-gouging.
However, one equipment supplier said that excavators brought into the country are cheaper than in Suriname or Brazil because they pay no duty on the machines.
Following the meeting, elections for executive positions were held and Harding was returned unopposed as president. Also returning unopposed was Vice-president Charles Da Silva, Treasurer Azeem Baksh; T. Adams was returned as secretary while Andron Alphonso was elected Organising Secretary.
A miner making his point yesterday
Around the Web