APNU MP Desmond Trotman yesterday moved to the court to block government's planned transfer of land at Kingston that the planned Marriott Hotel is situated on, arguing that  the public trust has been abused.
The notice of the opposition to the passing of the conveyance to Atlantic Hotels Inc (AHI), the holding company for the Marriott project, also revealed that the proposed lease fee is $299,955 per annum.  The value for the lease over 99 years would total a paltry US$148,000 for a proposed five-star hotel and casino.
Trotman's notice of opposition stated that on April 12, 2013 President Donald Ramotar, acting on behalf of the state and on the advice of Cabinet, made absolute grant No.7888 to National Industrial and Commercial Investments Limited (NICIL) of the land known as Block Alpha at Battery Road, Kingston. According to Trotman, NICIL has since applied to the Registrar of Deeds to convey the land to it and this was advertised in the Official Gazette of June 15, 2013. Further, he said that NICIL then agreed to pass a conveyance of Block Alpha by way of a lease for 99 years to Atlantic Hotels Inc as advertised in the Official Gazette of June 15, 2013. He added that the 6.886 acres are being leased at $299,955 dollars per annum.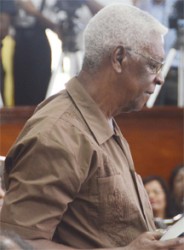 Trotman in his notice of opposition argues that the public trust reposed in the President and his Cabinet has been misused and abused by the wrongful disposing of the public property.  Further, he said that the intended lease by NICIL to AHI would result in an infringement of the fundamental right of citizens to equality before the law and equal protection as guaranteed by articles 149, 149D and 142 of the constitution and the rule of law.
Trotman also argued that it is not competent for NICIL to convey by way of lease the property in question.
The action was filed by Rex McKay SC, Christopher Ram and Bettina Glasford.
The Marriott Hotel project has generated fierce controversy over the investment by the state of tax dollars and the secrecy surrounding the intended investors. The liability to the state in the event of the failure of the project has also been raised. The intended lease fees will also raise questions about its quantum considering the scale of the investment and the value of the land.
Around the Web