The mother of Nicholas Cox, the 16-month old child who was hospitalised after he was allegedly given an overdose of medication at the Georgetown Hospital, believes that her son has suffered brain damage and that his doctors are keeping her in the dark about his condition.
Debra Archer told Stabroek News that her son cannot move or speak and is still defecating blood, although he has been hospitalised at the institution over the last four weeks. And Archer's fears about his condition have grown following a recent examination that prompted a doctor to tell her that she would not have the same child she brought in to the hospital.
The doctor did not explain why but his comment has led the mother to believe that she is not being told the truth about the condition of her son, who is now a patient of the hospital's Paediatric Ward. He was previously kept in the Intensive Care Unit. Archer has been calling for an investigation of her son's treatment since his admission on May 30. She has alleged that her son was given an overdose of gravol when she took him to the institution for treatment for diarrhoea and vomiting. She said that her son's heart stopped beating and he stopped breathing immediately after he was given the medication by a nurse but he was resuscitated by doctors soon after. In response to the woman's allegation, the hospital has said that the toddler was taken to the institution after being treated for five days at a private hospital for vomiting and diarrhoea and he was given IV fluid with medication (flagyl, augmentin and gravol). The hospital is still to say whether the child's present condition is a result of an overdose of the medication given to him at the hospital.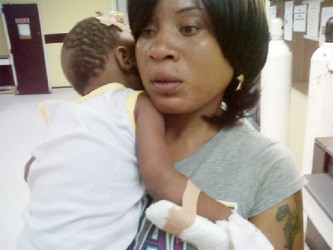 This week a camera was placed inside of the child to locate the source of his internal bleeding. Earlier in the month a CT scan, typically used to detect infarction, tumours, calcifications, haemorrhage and bone trauma, was done on the toddler to determine the extent of his injuries but based on its results doctors reported that everything seemed normal, Archer said. But despite this, she is claiming that her son may have suffered brain damage after he was given an overdose of the medication gravol. Her assumption was further supported by the doctor's indication that her son would not be the same as before. She added that she visited another doctor for advice on the matter and was told that her son has possibly suffered brain damage, which occurred between the period when he stopped breathing and his heart collapsed and when he was resuscitated.
Attempts to secure a comment from the hospital have been unsuccessful.  Archer said that she also suspects that her son is now blind because when she attempted to get his attention by putting her hands close to his eyes, he did not blink. "When I push the phone which he like in front of he, he does not move his eyes. He only recognise me and he father voice. If you get a child, you must know," she said.
Based on her observations, she asked the doctor attending to Cox whether he is blind but was told that an ophthalmologist's examination of the boy found that he still has his sight. She added that the doctor also said to her that her son's eyes and brain are not working together when they should.
In an attempt to get answers from officials at the hospital, Archer said she has made numerous trips to the head nurse but was never successful in meeting her. But on her last trip, she said, she spoke to another sister at the nurse's office, who told her that they will investigate the matter.
Archer stated that she will continue to pursue an investigation of her son's treatment.
Around the Web