University of Guyana (UG) staffers yesterday resumed demonstrations after two days of no "visible activity" with a picketing exercise in front of the Education Minister's office on Brickdam.
Furthermore, Patsy Francis, President of the University of Guyana Senior Staff Association (UGSSA) said that her union, in collaboration with the University of Guyana Workers Union (UGWU), will go ahead and bring a class action lawsuit against the university. The demonstrations are to protest the non-payment of the staff's NIS, leave passage, Credit Union, among other benefits and contributions. Earlier this week, Melissa Ifill, UGSSA's Vice-President, had said that the university was given yesterday as the deadline to approach the unions with a proposal of how they would go about addressing the situation and a timeline of when this is to be done. Francis yesterday said that apart from a promise from Vice-Chancellor (VC) Jacob Opadeyi to meet with the unions on July 4th, they have not heard anything from the university and will as such move to initiate legal action. She also said that upon Opadeyi's return on July 2nd, the staffers will be resuming their on-campus picketing. The staffers had stopped on-campus pickets on Tuesday since the VC was not in the country. In his absence, Francis had said, the unions did not believe that their actions were being effective.  It is against this backdrop that that the staffers opted to move to an off-campus location yesterday. On-campus pickets will continue on July 2nd however, as the VC is slated to return on that day.  Meanwhile, Francis said, the unions are also working feverishly on a petition which, she said, is likely to be on the Education Minister's desk early next week. She also reiterated that the unions are engaging a Parliamentary Select Committee in an effort to have the National Assembly take whatever steps are necessary to correct the perceived mal-administration of the university and its affairs.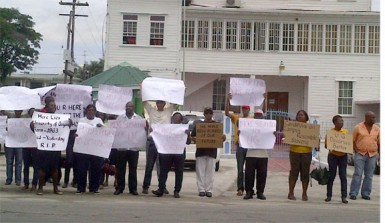 Among, the changes they will be calling for in these engagements, Francis said, is the selection of a more competent university council. Asked about the possibility of a full-fledged strike, Francis said that it remains a consideration, but said that the staffers will only resort to it as a last resort. As such, students currently taking summer course are unlikely to be hampered by the staff's actions. She said that the way forward for the unions will be determined by the outcome of a meeting to be held with Opadeyi upon his return.It is unclear what Francis and the other staffers expect to get out of this meeting however, as she has admitted that she does not believe there is much Opadeyi can do to change the state of things at the university.
University staffers, led by their individual unions, had commenced picket actions on Monday but postponed further actions on Tuesday because they felt their actions were not effective in the VC's absence.
Around the Web