A 34-year-old truck driver of Bath Housing Scheme, West Coast Berbice was discovered dead in a yard at Woodley Park Village early yesterday morning.
Jaipaul Sampuran was found face-up around 4.25 am in a pool of blood with a wound to the back of his head. Two persons are in custody and police are looking for a third suspect. A small amount of cash was missing from his pocket.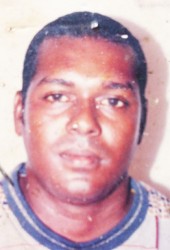 Police said in a release that "blood was seen oozing from the ears and eyes". According to sources, Sampuran was engaged in an altercation at a 'wedding house' and he ran into the unfenced yard a short distance away to seek cover.
His attackers apparently chased him and dealt him the fatal blow. The body was initially unidentified and was described as being clad in a pair of three-quarter jeans, blue shirt and a pair of blue slippers.
One neighbour said she did not hear any noise during the night, but when she opened her door around 6 am she saw police and a crowd at the scene. Then she heard persons saying "look a man lay down there, dead."
Meanwhile, after Sampuran failed to return home, his pregnant wife, Renita Sampuran, 33, called the Fort Wellington Police Station around 8 am yesterday to report him missing.
Police visited the woman about half hour later and conducted investigations and told her to "take it easy and don't stress out." She had no idea that her husband was dead.
The officers left her at a shop at the head of the street and she waited a while before they finally returned to take her to the funeral parlour at Number 4 Village. When she saw her husband's body she broke down and cried uncontrollably.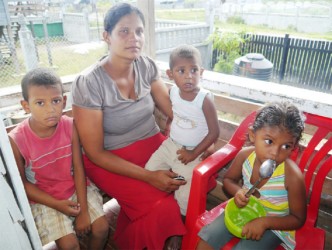 Recounting the events leading up to his death, Renita said he returned home from work around 9.30 pm and after having his dinner they were relaxing and watching television.
Around 10.30 pm a man named 'Rakesh' came on a bicycle and called out to him to accompany him somewhere. She said she tried to insist that he not go because it was late and he had to leave early the next morning for work.
He responded that he would "come back just now" and left on his bicycle. About half hour later, she said Rakesh returned and called out to her asking if Sampuran had returned home.
She replied no and inquired why they were not together. She said Rakesh related that he had told her husband to wait for him by a shop but he was not there.
Renita said she was unable to sleep the entire night. Around 5 am yesterday, she started searching the area for her husband. Her efforts were in vain. She eventually called the station and reported him missing.
In tears, Renita said her husband was a "quiet and good person and never had problems with anyone. He never got into fights."
Along with his wife, he leaves to mourn six children: Britney, 8, Rachpaul, 4, Tiffany, 3, one-year-old Seanpaul, along with his 14 and 15-year-old daughters from a previous marriage; his mother Deowattie and siblings.
Around the Web