Even though the Guyana Police Force has declared "zero tolerance" for domestic violence the treatment meted out to victims of physical and sexual violence at some police stations has left a lot to be desired. Women rights activists have condemned the response from the police and have pointed to the fact that although the legislation is there it is not being implemented.
Deputy Commissioner of Police Balram Persaud recently told the Women & Gender Equality Commission that the force has a "zero tolerance" policy in relation to domestic violence yet in a recent high-profile case a woman with obvious signs of physical violence was told at one station that she had to visit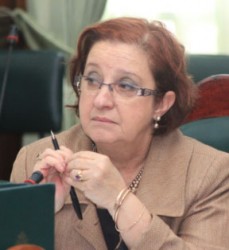 another station to file a report. At the second station the victim after explaining why she was there, left the station 45 minutes later because no one attended to her. In another case a 14-year-old Sophia rape victim was made to wait eight hours for a female police officer to take her to the hospital for a medical.
"It is totally insensitive; what we have noticed is that the police have for some time claimed training in several levels of the force in domestic violence, but clearly the cultural stereotype and the challenges of who is who in society often mean that perpetrators are allowed to go free," parliamentarian Cathy Hughes of the Alliance For Change (AFC) told the Sunday Stabroek in an invited comment.
Hughes called on the government and the Minister of Social Services to speak to this issue as while progress has been made there is need for much more to be done and at a faster rate.
Programme Coordinator of the Guyana Human Rights Association (GHRA) Merle Mendonca said that the central responsibility of government is to promote and protect human dignity and rights.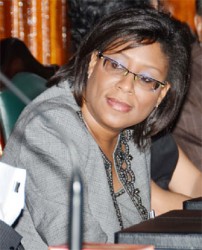 "The Guyana Police Force is the front line agency of the state with the responsibility of protecting and promoting these rights.  Unfortunately, we believe that due to various reasons ‒ lack of training, political interference and corruption ‒ the police are not effectively protecting women's rights," Mendonca said when asked about the issue.
She pointed out that no one should be above the law, regardless of who they are, "whether you are the son of religious minister, a minister of government or the son or daughter of a parliamentarian."
Approached on the issue Advisor on Governance Gail Teixeira, who was a past minister of home affairs, said that the question should be directed to Minister of Home Affairs Clement Rohee, but when further pressed she pointed to the fact that the issue is a worldwide problem.  She said in many developed states at small precincts there are complaints about the manner in which victims are treated, and then moving off from the issue at hand she went on to say that the complaints about the long waits at hospitals are similar to an experience she had in Canada.
Meanwhile APNU Parlia-mentarian Volda Lawrence said that erring officers should be made to pay the consequences of their actions.
"It is very unfortunate that after several legislations, several conferences, workshops with Guyanese of all strata of life, including the Guyana Police Force, that we still seem to be experiencing the lackadaisical attitude towards persons who make report about sexual abuse or domestic violence," she told this newspaper.
She said that the time has come for action, and where persons who are supposed to give support and service to the public are found lacking strong measures should be taken. They should either be suspended, be put on no-pay leave or dismissed, "because we cannot continue as a nation like this; we cannot continue saying one [thing] over and over again. It is time for action."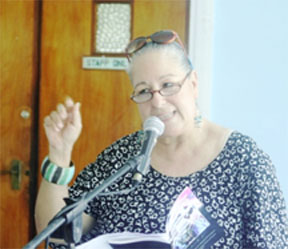 Members of the Women & Gender Equality Commission had been asked about the issue at a press conference and Renata Chuck-a-Sang had noted that that the institutions tasked with implementing the acts seem not to understand their roles in the process and they needed to be taken to task.
Her colleague on the commission, Vanda Radzik, had pointed out that the country cannot have the key enforcement agency under the Domestic Violence Act reneging on what is their clear duty. She had stated that these are instances where the law is being broken in a police station by certain police officers and it is a breach of the constitution and the various statutes.
"Millions of dollars have been spent in Guyana by several agencies on having these things in place, and it is extremely distressing to know that they are not automatically used…" Radzik had said.
'A lot of progress'
According to Hughes, Guyana has made a lot of progress and times have changed, in addition to which awareness of the huge incidence of domestic violence is greater. She went on to say that there is an increased awareness that domestic violence is a serious crime and must be dealt with as a serious matter, and more and more people are recognizing that it is an unacceptable form of violence.
"[But] I think where we fall down is that we are not matching this increased awareness with special services and facilities that will in a sensitive manner provide counselling and support at police stations to victims just after the incident occurs, and  a legal system and support that will ensure that perpetrators are punished," Hughes said.
She pointed out that victims are not only assaulted by the crime but by the treatment they receive when they are strong enough to go and make a report. They often have to face police officers who may not want to take a report or send them from one station to another, "or in a worse case a victim is asked to wait for eight hours before she can go to the hospital for testing and treatment."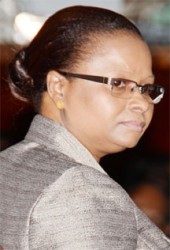 Hughes called for the women in the force, especially those in the high echelons of the force, to come up with concrete positions that can guarantee at every station a female officer is trained to deal with rape and domestic violence. And if they are not at the station when a report is made a system of having them on call should put then be in place, while the force must establish relations with the hospital or a specific doctor.
"With reorganisation, solutions can be found. It is not that this situation does not happen in other parts of the world, but we can actually learn from facilities other countries have in place," she said.
"We cannot allow the system to assault the victim over and over again. I call on the female members of the PPP/C and all female members of parliament, including myself, [to realize] that it is clear we have to do better; an assault on one woman is an assault on each us because it could be any one of us any day or night," the parliamentarian said.
'Most serious'
Meantime Mendonca said that the recent treatment of the domestic violence victim by the police highlights the fact that it is widespread and is the most serious human rights violation in Guyana. She said news reporting of domestic violence cases has increased over recent years but unfortunately this hasn't yet translated itself into a safe situation for Guyanese women in abusive relationships.
"We all know that Guyana has criminalised domestic violence since 1996 but these laws are frequently not enforced for a number of reasons," Mendonca said, adding that the Domestic Violence Act provides for a protection order but unfortunately these are not readily available, issued or enforced.
According to Mendonca the GHRA knows for a fact that copies of interim protection orders and protection order applications are not readily available at the majority of police stations and magistrates' courts. And there is still a lot of misinformation regarding the process for obtaining protection orders. The association has noted over the years that even if victims are able to access the protection applications and do apply for an order, these will usually not be heard for seven days or even more. Recommendations to require immediate hearings have been ignored.
While there is no adequate immediate protection from the force in terms of handling domestic violence cases effectively, a woman who finds herself in a violent situation must still rely on the police for protection. And if a woman wants to make a complaint about the way she was treated by the police the mechanism for filing complaints is via a report to the Police Complaints Authority, which does not have an independent investigation unit as all complaints have to be sent to the Commissioner who relies on the police to conduct investigations in relation to its own officers.
"Given the incidence of corruption in Guyana such a mechanism is not effective in ensuring adequate monitoring," Mendoca noted.
The GHRA programme coordinator noted that Guyana's constitution provides for an Ombudsman; however this position has been vacant since 2005 and this, she said, raises the role and function of the National Domestic Violence Oversight Committee. The GHRA has not seen any report to date about the functioning of this committee.
The GHRA has worked with domestic violence victims and has seen them become frustrated and more fearful for their safety given the inefficiency of the police and prosecutors and the lengthy delays of the court system. Making reference to the 2010 figures of Help & Shelter, Mendonca said there were 346 cases of abuse and violence including child, spousal and other domestic abuse, but only 24 cases were filed in court out of which only three were prosecuted.
Speaking specifically about the case of the child who was raped, Mendonca said the association believes it is yet again another example of a human rights violation, in this case a young person. Reacting from an emotional level, Mendoca said she cannot understand how anyone after reading how the young child was treated can sleep easily at night.
She said it is yet another victim story that demonstrates that sexual violence has become a pandemic in our society.
And despite the fact that Guyana has a fairly good record with regard to modern legislation, including domestic violence,  sexual offences and trafficking in persons, Mendoca said where the country continues to fail is in implementation, which requires clear policy and a clear idea of what the legislators intended to secure. Specifically with respect to the new Sexual Offences Act, the sections that extend greater protection to victims still remain unimplemented. Mendonca listed the sections that deal with more victim friendly police procedures in relation to reporting, witness protection, harmonization of the delivery of legal, health, counselling and police services to victims as examples.
She said the GHRA remains firm that the Sexual Offences Task Force is the vehicle to drive the whole process of implementation of the act. But to date the task force is yet to meet to work through the implementation of the act. She said without an effective, functioning Sexual Offences Task Force that ensures that victims' rights in a case such as the Sophia child are coordinated through the various services, the cases of such treatment will multiply.
Around the Web