The main opposition APNU will listen to stakeholders before crystallizing any amendments to the proposed anti-money laundering legislation currently being considered by a Special Select Committee of the National Assembly.
"We are not really bound by any deadline," Leader of the APNU David Granger told Stabroek News yesterday. "Our concern is to introduce amendments that are capable of making the Act more effective," he said. With just over a month before the National Assembly goes on a three-month recess, it is uncertain whether the committee will wrap up its work by then and take the Bill back to the House. "The timing is not a major concern" for APNU, Granger said.
Attorney General (AG) Anil Nandlall had said that the Caribbean Financial Action Task Force (CFATF)  has set August 26 as the deadline for Guyana to submit anti-money laundering amendments if it wishes to be considered at the body's next meeting in November. During ameeting in Nicaragua in May, the CFATF encouraged Guyana to urgently approve and implement these legislative amendments.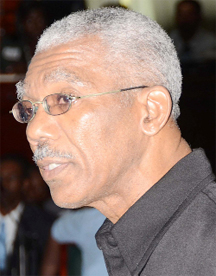 "If Guyana does not take specific steps by November 2013, then the CFATF will identify Guyana as not taking sufficient steps to address its AML/CFT deficiencies and will take the additional steps of calling upon its members to consider implementing counter measures to protect their financial systems from the ongoing money laundering and terrorist financing risks emanating from Guyana, and at that time CFATF will consider referring Guyana to the Financial Action Task Force Inter-national Cooperation Review Group (FATF ICRG)," a statement from the Trinidad-based body had said.
Before the meeting in May, government was unable to convince the opposition-controlled National Assembly to pass the amendments. APNU had argued that it need more time to study the legislation given its complex nature, while the AFC also wanted government to re-consider Bills passed by the opposition and set up a Public Procurement Commission.
Last week, a team from CFATF met the joint opposition to address the need for amendments to the anti-money laundering legislation and it also made clear that passage of the law alone would not get Guyana off the hook.
Granger told Stabroek News yesterday that while APNU has some pre-existing concerns, it had not yet finalized a list of possible amendments to propose. He emphasised that the party wanted to listen to stakeholders. He noted that there are some issues that APNU is not happy with. "We do have pre-existing concerns about the strength and viability of the FIU [Financial Intelligence Unit]," he said adding that it is understaffed and unable to fulfil its functions. Another concern is the president's power to appoint and remove the head of the FIU, Granger added.
Around the Web