Months have passed since South Ruimveldt resident Orin Joseph was gunned down during a robbery outside his home and despite police being given some important information, the case is at a standstill.
Police officials have continuously said that because the shooting occurred during a blackout with no one around, it has been difficult for investigators to pick up leads.
For Faye Joseph, the last few months have been frustrating for her and her children as police seem to be taking a laid-back approach to the investigation.
On April 14, around 23:30 hrs Joseph was shot dead as he walked towards one of his cars which had to be parked on the road to facilitate a dominoes competition being held in his yard.
Joseph had over the years been affiliated with the game and his widow, Faye, is the current president of the Georgetown Dominoes Federation. He had previously held that position.
Shortly after the dominoes competition ended, the area was hit by a blackout and it was at this point that Joseph decided to retrieve the vehicles he had moved to facilitate the competition. The vehicles were parked on the roadway a short distance from his home.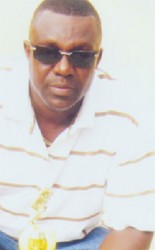 It was when he arrived at the first car that he was attacked by two men, shot and relieved of some gold jewellery he was wearing. The men then fled the scene on a CG motorcycle. The man was rushed to the Georgetown Hospital where he died while receiving medical attention.
During a recent interview with this newspaper, sadness overcame Faye Joseph as she spoke about her husband and the incident.
"Only the other day I saying that I need the police to get more serious about this matter because I feel they should have an idea [about who did it]… because we get certain information and I follow it up with them and now I am frustrated," the woman said.
She said she needs justice for "my husband and I need justice for myself".
She recalled that sometime last month she visited the police and then on another occasion she called. The woman told this newspaper that the police promised to visit the area the next day but never turned up.
Asked if she had any confidence that something will come out of the case even though so much time has passed she said, "I am still confident that something would come out of it because I was giving them time to do their job but it bothers me because my husband was a good man and well known and people know, you know and so it is really hard on me."
She said she is still certain that her husband was killed during a robbery especially because of the planning that went into it.
At the competition?
Stabroek News had been told that it was possible that one of the perpetrators or an accomplice was in attendance at the competition and was watching Joseph's every move. Asked about this, Faye Joseph said she did notice a strange man that night.
She recalled the man asking her husband for something to eat while noting that she did not see him when he left.
"I was a bit suspicious when I saw that person come in," she said. However, she expressed the view that that person was in no way connected with the incident. But she said there was no screening of persons at the competition.
"I have since changed things around. If any of the players is bringing anyone they have to indicate that to the others in the venue," she said.
She said that now, players and persons who attend the competition are more security conscious. "Members are aware that they have to be cautious and when the games are finished a few would stay back with me to ensure that everything is in order," she said adding that sometimes she feels scared but ensures that she puts God first as he is the person in charge.
Faye added that she and her relatives are trying to be strong but it has been hard. She still cries a lot. "Sometimes when I go to the games or places where he and I would go, I would remember him. There are certain songs that we would sing because he was into karaoke. All of that brings back the memories. And then the children talk about him a lot and put on his music," she said her voice laced with sadness.
She said that as president of the federation she still holds competitions which are like a tribute to Joseph as it was he who introduced her to the game.
"I don't want to quit because it is something that he loved," she stressed.
Do more
While speaking to Stabroek News, the woman urged the police to work harder to catch those responsible.
"To the police I would like for them to get down more on the matter because I know they can do better work so that we can have justice." She said that the area being dark and there being no eyewitnesses should not be used as an excuse. She said it is the police's job to go out there and look for the evidence.
"That is not an excuse. They are the police that is their job," she said noting that in the United States for example the investigators don't always know who committed the crime but they "get down and they do their work".
Faye said that in her opinion "it is not very hard because names had been mentioned". The crime chief had told this newspaper that two suspects had been identified. One was arrested but was later released.
She said that everyone including neighbours still talk about the incident because it is still a shock to everybody.
"I would say to the perpetrators that they probably don't know that man that they killed. He was a good man and it is a wrong they have done…," she said.
She said she will always remember Joseph as an honest, caring and loving person because "he loved his family and he loved his wife".
Around the Web