Despite the cause of death for the Woodley Park murder victim being listed as fractured skull,  the Chambers of the Director of Public Prosecution has advised against charges.
Jaipaul Sampuran, 34, of Waterloo, Bath New Scheme, West Coast Berbice was found face-up in a pool of blood in an unfenced yard around 4.25 am on Saturday. There was a wound to the back of his head.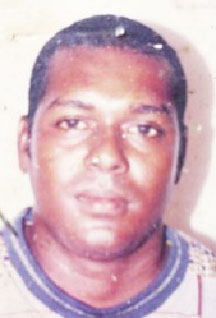 Police had sent the file to the Director of Public Prosecutions for advice because of the circumstances resulting in the murder.
A source explained that the suspect reportedly tried to steal Sampuran's bicycle. He [Sampuran] picked up the bicycle's bar and reportedly assaulted the suspect who then challenged him with a piece of wood.
Sampuran tried to seek cover by running into the yard but the suspect allegedly chased him and dealt him the fatal blow.
Yesterday, his wife, Renita Sampuran burst into tears upon learning that the suspect was released from custody and would not be charged.
She told Stabroek News that "my husband gone and left me with nothing and now the man [suspect] is free. What would happen to me and my children?"
She said "all I want is justice. I want him to pay for what he did. My husband ain't even bury yet and they loose him already."
Sampuran's younger brother, Ryan, 28, told this newspaper that yesterday morning an officer from the Fort Wellington station called and informed them that the man would no longer be charged. They were told that the man would be released until further investigations were done.
He said they were disappointed and angry that justice may not be served in his brother's name. According to him, his brother died and left his pregnant wife with four young children; Britney, 8, Rachpaul, 4, Tiffany, 3, and one-year-old Seanpaul.
Ryan said his brother left home with close to $100,000 in his pocket. He had collected the money from work the same day, but after the murder only $500 was recovered.
"I want to know who is the person who come forward and say me brother assaulted the man."
Somebody see me brother assault the man but nobody din see when he get murder," Ryan lamented. He also insisted that said his brother was not the type of person to be involved in fights.
Sampuran had returned home from work around 9:30 pm and while relaxing and watching television with his wife, a man, 'Rakesh' came on a bicycle around 10:30 pm and called out to him.
He left on his bicycle, telling his wife, who did not want him to go, that he would "come back just now" and ended up at a wedding house. Rakesh has since disappeared from the area.
Meanwhile, a resident of Woodley Park told this newspaper that the suspect was in the  habit of stealing people's bicycle.
He had also been charged with wounding several persons with cutlasses and knives and been convicted three times.
Around the Web