Julian Cummings, who was wounded in the fatal attack in the North West that left his son-in-law dead on Tuesday, says his survival is a miracle and is calling for miners to be granted gun licences so that they can protect themselves.
"This thing was a picture story. It was a miracle that I lived. I didn't expect this," Cummings, who will be 66 on Sunday, told Stabroek News yesterday.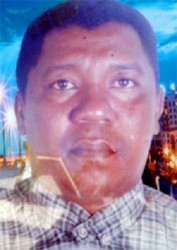 Cummings' son-in-law, Brazilian national Jose Francisco De Sousa Lema was shot dead by three masked men and robbed of a quantity of raw gold in the attack in the White Creek area, also known as 'Bamboo Landing,' which is some 100km from Port Kaituma.
Cummings himself was gun-butted several times by the men and he now bears stitches above one of his eyes.
The still shaken man, speaking from his home at Charity, Pomeroon River, recalled that on Monday afternoon there was a `wash-down' (retrieval of gold) at the camp and it was decided that it was too late to take the raw gold they had gotten to Port Kaituma. He said that Lema advised that they travel the next morning.
According to Cummings, he and Lema left camp around 6:10am and about 45 to 50 minutes later as they approached a bad patch in the road, the three gunmen suddenly appeared. He said that two of them had long guns and the third had a short one.
He recalled that the men were hollering and Lema, who was the driver of the All-Terrain Vehicle (ATV) they were travelling on, jumped off. The pensioner said that before he knew what was happening, he was being gun-butted. Seconds after he fell to the ground, he heard "bladam."
The men continued hitting him while asking him for gold. Cummings said that he repeatedly told them that he had nothing and it was at this point that they started checking Lema's clothing. When they found nothing, they attacked Cummings again and the man insisted that he had nothing.
"Ah tell them that ah telling de truth," he said, adding that the men searched a bag that Lema had and still found nothing.
The man said that during the ordeal, the men who had handkerchiefs hiding their faces, repeatedly threatened to kill him. However, they eventually found seven ounces and five pennyweight of raw gold in a small bag which was hanging on the front of the vehicle. They escaped with that along with $160,000 and eight pennyweight of raw gold belonging to Cummings.
After the men left, he waited five minutes before he got up and managed to stumble into some bushes a short distance away to conceal himself in the event that the gunmen decided to return.
He said that blood was gushing from a wound to his head and after about 20 minutes he decided to take a chance and leave his hiding place since he was unable to stop the bleeding.
The two and a half mile journey back to the camp was rough, he said, while explaining that he began feeling weak as a result of his blood loss and eventually had to use a stick to aid him in walking. He said that he kept falling on the slushy road but managed to get up.
Later, during the journey back to camp, he had to cross a small creek and because of the weight of the water on his clothing he had to strip down to his underwear. He said that as he neared the camp, he managed to raise an alarm and the workers went to his assistance.
Cummings said after he told the workers what had happened, one of them made contact with his sons, who travelled to the camp with three ATVs and twelve workers.
He was transported to the Matthew's Ridge Hospital, while one of his sons went to Port Kaituma to get the police.
He said that the ranks reached the crime scene around midnight and brought out Lema's body to Port Kaituma the following morning.
According to Cummings, after the `wash-down' on Monday some of the workers went to the landing and while on their way back they saw three strange men in the area. He said that it could be that the gunmen got a 'tip off.'
He added that security in the area, which is isolated, is a big problem. Several months ago, he noted, a miner was badly beaten after he was attacked by gunmen. And while his sons are owners of large dredging operations, he said they have been continuously denied gun licences.
He said it was a result of these constant denials that he and his son-in-law, who began operating a dredge in that area in January, were unable to defend themselves when they were attacked by three gunmen.
Cummings also believes that the police would be unable to catch the gunmen. "The police can't do nothing. They don't even have transpey (transport)," he said.
A post-mortem examination is to be conducted today on Lema's body.
Around the Web