Guyana and the Caricom Development Fund (CDF) yesterday signed a country assistance programme agreement that will inject US$7.32M ($1.5B) into Guyana's agriculture sector.
A release from the Caricom Secretariat yesterday afternoon said that Guyana's Finance Minister, Dr Ashni Singh and Chief Executive Officer of the CDF, Ambassa-dor Lorne McDonnough signed the pact for a combination of a US$4.566M concessionary loan and a US$2.66M grant, at the Hilton Hotel.
The release said that through the funding, more than 9,000 farming households are to gain easier access to farmlands to improve and sustain agriculture production year-round.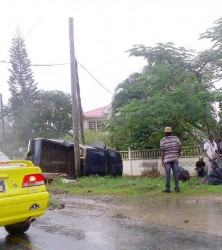 In brief remarks at the signing, President Donald Ramotar said the funding made possible through the CDF would go a long way towards improving the infrastructural development in the agriculture sector. Guyana has received many loans and grants in the past for the agri sector and crop diversification.
The release said in part:
"President Ramotar, who is also the Lead Head of Government for Agriculture in the Community's Quasi Cabinet, called for the de-stigmatisation of agriculture, and the modernization of the sector to make it more attractive to young people. He said he was confident that with modern technology and new techniques, the Community could lift production, find markets, lure youths and lift the income of those involved in the sector.
"In his comments prior to signing the agreement, Minister Singh said that President Ramotar's presence at the event – held in the margins of the Thirty-Fourth Meeting of the Conference of Heads of Government – was testimony to Guyana's commitment to Caricom, to the Caricom Single Market and Economy (CSME) a flagship programme of Caricom, to regional institutions, and to the development and impact of projects in Guyana.
"Agriculture, he stated, was perhaps the leading example of a sector that could manifest regional integration at its best.
"Ambassador Lorne McDonnough said the approval of funds and signing ceremony with Guyana marked the fifth of eight Member States that are to benefit from the CDF under the first funding cycle, and was tangible evidence of Community mechanisms at work. The CDF was established under Article 158 of the Revised Treaty of Chaguaramas "for the purpose of providing financial or technical assistance to disadvantaged countries, regions and sectors." It is the centre-piece of a regime to address the disparities among the Member States of the Community which may result from the implementation of the CSME.
"Funding, Ambassador McDonnough said, has been approved for Dominica which should sign its agreement next week. Consideration of a programme with Grenada is underway and should shortly be able to approve for signature.
"The country assistance programme to Guyana, he said, supported access road construction by the Inter-American Development Bank (IDB) and the Caribbean Development Bank (CDB), and dovetails with other agriculture-related projects."
Around the Web