It has been almost six months since an elderly woman was found brutally murdered in her home at Guava Bush, Albion, Corentyne, Berbice and despite the arrest of several persons, including family members, police do not appear to be close to charging anyone.
Relatives say that 70-year-old Jasmattie Pooran was targeted because she had just returned from the United States and the perpetrator/s probably believed that she had a large sum of money.
Stabroek News has learnt that the police in Berbice have so far been unable to find any clues that could crack the case. Though it appears as though the investigation is at a standstill, a police source said that the case remained open and called on anyone who may have information to come forward.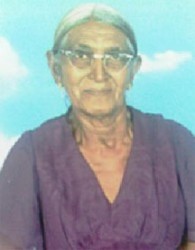 The source spoke of how brutal the crime was and noted that those who killed the woman would have spent some time in the house. It is because of this, the police believe that someone saw or heard something that could identify the killer/s, the source said.
On the morning of January 19, Pooran was found bound and gagged at her home. Police subsequently reported that investigators observed bruises on the body, while her hands were tied behind her back with cloth and a piece of canvas rope was tied over her mouth.
Pooran lived alone and it was a relative who made the shocking discovery after efforts to contact the woman were futile. Family members believe that she was killed around 6 pm the day before her body was found, during a blackout. There was evidence, they said, that Pooran had been cooking dinner; they found roti dough in a bowl next to the fireside.
Speaking to Stabroek News recently, a relative, who asked not to be named, said that the fears speaking about the case and taking steps to keep the matter alive because the killer is still out there. And as time passes, she said, the family has become less and less hopeful of justice. "They could try stuff to harm you but I know that one day the truth will come about because there is a God," the woman said.
Asked about possible motives for the murder, she said Pooran had a lot of money. She also observed that for some reason, it seems as if the killer/s thought that she kept her money at home. However, she Pooran had her money in the bank and kept nothing where she lived.
Pooran had returned home two weeks before her death after visiting New York for the first time. Her relative said that all of this might have led the killer/s to believe that she had a lot of valuables. Based on what the relative told Stabroek News, Pooran may have been under surveillance and because there were no immediate neighbours, she made an easy target.
Commenting on the arrests that were made after Pooran's death, the relative said that she wasn't satisfied with because several of the persons were just detained for about nine hours and then released. At least three family members were among those arrested but no concrete evidence was found. Among the persons arrested was also a contractor who reportedly had an issue with Pooran over some land he owned nearby. There are reports that the contractor had accused the woman of fencing a small portion of the nearby land and sources said that the woman refused to remove the fence and there had been a threat. But the contractor was released after police could find nothing to link him to the murder.
"I think they should look into it more close. People called with information but they didn't really act, didn't really pursue it," she stressed, while noting that this might have cost the police a break in their investigations.
While expressing dissatisfaction with the arrests made, the woman said that there is hardly anything the family can do about the way the investigations are going.
She said that based on how the body was found, relatives suspected Pooran had also been raped. The police, however, did not tell them anything about this, she said. "She might have been. She had a lot of bite and scrapes. There was a struggle," she said, while adding that based on what she knows police did not take any samples from the woman's body for DNA testing.
"That amaze me because with all them teeth marks, scrapes and so, they should have taken something from her body to do DNA [testing]," she said.
As the days turn into weeks and the weeks turn into months, the woman said she and other relatives still hope they can one day get closure by knowing who killed her and why.
Around the Web