The driver of a car of Golden Fleece, West Coast Berbice (WCB) was spared serious injury when he slammed into an electricity pole at the turn at Golden Grove, WCB around 8.20 pm on Saturday.
Eyewitnesses said Takurdyal Persaud, a rice farmer, was flung out of the wrecked Toyota Spacio motorcar PNN 1137. He landed face down on the parapet in an unconscious state.
He was taken to the Fort Wellington Hospital where he was treated for a cut to his tongue and sent away.
According to an eyewitness, the man appeared to be under the influence of alcohol and was seen swaying on the road. He almost collided with another vehicle before running into the post, knocking it out of position.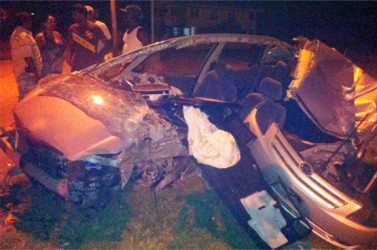 The top of the vehicle was ripped off and other parts fell off on the parapet. At the scene, persons commented that it was a miracle that the man escaped with only minor injuries, given the extent of the damage.
A woman who said she was among the first to arrive at the scene, assisted him into a vehicle that took him to the hospital. She said several other vehicles passed but refused to transport him.
Around the Web