Police Corporal Floyd Hossanah, who was one of the first officers to arrive at the scene of the 2008 Lusignan massacre, yesterday said that he could not recall dusting for fingerprints at the crime scene.
Hossanah, one of three a witnesses for the state to testify yesterday at the trial of James Hyles called 'Sallie', and Mark Royden Williams called 'Smallie,' who are accused of the 11 murders, told Justice Navindra Singh and a mixed jury in the High Court , he had been stationed at the Criminal Investigation Department (CID) in January 2008.
Acting on information received, he said he went to Tract 'A' Lusignan in the company of other ranks, including Sergeant Ewin Trotman and at Lot 20 Tract 'A' Lusignan he saw three motionless bodies. He recalled calling Trotman to photograph the bodies. He said that he examined the external parts of the bodies and found what appeared to be gunshot wounds. Hossanah stated that he conducted examinations on the scene and found four objects that appeared to be spent shells and placed them in a white envelope, which he sealed. He said that he further examined the crime scene and found an object that appeared to be a fired cartridge casing.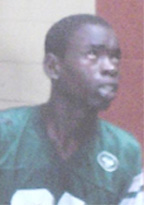 Hossanah stated that after retrieving spent shells and fired cartridges from the 11 bodies, he sealed the objects in various white envelopes, with police seal number 13. He stated that on March 17, 2008, he took the envelopes to the firearms and ammunition section, where he handed them over to Sergeant Eon Jackson for examination.
He said that on the January 15, 2009, he received the envelopes from Jackson and took them to the Vigilance Magistrate's Court, where they were tendered. The Corporal said that on the said date, he collected the envelopes from the court and placed them in a large envelope that he marked

'Lusignan Massacre. '
According to Hossanah, if he were to be shown the envelope, he would be able to identify it. The witness was then shown the envelope and verified that it had his markings. Several of the envelopes were damaged, and as such the presiding judge did not allow them to be tendered as evidence in the matter because the witness would not be able to say which spent shell came from which location.
Williams' attorney Peter Yearwood, in his cross-examination, asked Hossanah if it is protocol for fingerprint testing to be done at a crime scene and he suggested that if this is the case, the tester should be able to recall doing it. Hossanah replied that it was so long ago that he could not recall if he tested for the prints at the scene. Yearwood then asked the corporal why he didn't tell the Magistrate that he caused fingerprint testing to be done when he testified in the Magistrate's Court but Hossanah again said that he could not recall saying that he did.
Yearwood also asked the witness if it was possible for a fingerprint to be left on a cartridge or spent shell, to which Hossanah replied that it is possible. He, however, added that at the time he did not examine any of the objects for fingerprints.
Hyle's attorney Nigel Hughes, in his cross-examination, asked the corporal if, as one of the crime scene investigators on the scene, he tried to ascertain how the perpetrators arrived there.
"I can recall at Lot 30 Tract 'A' Lusignan I found tracks heading towards the field at the back. The track was wet and I saw what appeared to be footprints. I think they were photographed. After this we passed the information to ASP Reid," he said.
During her re-examination, Senior State Prosecutor Judith Gildharie-Mursalin told the witness that in his cross-examination he stated that he did not examine the bullets for prints. "When the bullet goes up into the barrel it fires a gas that would damage the prints and it doesn't make any sense to check for prints," Hossanah explained.
Ballistics Expert Jackson also testified that he received at the Ballistics Section of CID two white envelopes from Detective Constable Fraser and that he examined the contents of the envelopes on February 2, 2008. Jackson said that after preparing a ballistics report on the findings and writing a statement, he handed over the report, statement and envelopes to Corporal Fraser.
Meanwhile, Assistant Superintendent Trevor Reid, who also testified, told the court that as a result of the murder committed on January 26, 2008, he conducted investigations over a period of time from the 19th of February, 2008. Reid stated that he was present at CID when policeman Suraj Singh confronted Hyles with the allegation that he, being in the company of others and being armed with dangerous weapons, murdered 11 persons at Lusignan on January 26, 2008.
According to Reid, Singh cautioned Hyles and he responded by saying, 'Me does wuk bus conductor… me na know 'bout 'Fineman' and gang. Me only learn 'bout the Lusignan matter from the TV." He said that Singh asked him if he wanted to make a statement and Williams replied "no."
Reid recalled that on June 15, 2008 at about 20:55hrs, he invited Singh to his office and that he contacted Williams at CID and took him into his office and told him in the company of Singh that it was alleged that being in the company of others and being armed with dangerous weapons, he murdered 11 persons at Lusignan on January 26, 2008. He said that he cautioned Williams, who responded by saying, "Bigga leh me tell yuh bout the wuk."
Reid said that Williams said that he would like Singh to write the statement for him, and after it was written, it was reread to the accused and signed by him. He stated that Williams looked at the statement and then said, "okay, this is the story." He also said that Singh showed him where to sign and that he did so in his presence.
According to Reid, at no time did anyone use any violence or threats towards the accused and he did not observe anything unusual with the accused.
Meanwhile, during his cross-examination, Yearwood suggested to the witness that the word 'Bigga' was not a word that the accused used and that he and the other officers used it. "That's a word from the gang," Reid replied.
Yearwood put forth several suggestions to Reid that he and other officers took Williams into his office and tortured and beat him. Reid denied the allegations and said that at no time did he or any other officer torture the accused.
The lawyer also suggested that he was present when his client, Williams, told him, "Counsel they beating me bad." Reid also denied these allegations. Yearwood also suggested that when he went to see his client, Reid told him, "Counsel, this is a special case. You can't see him right now," and after he had left proceeded to have Williams beaten again, while accusing him of telling about the beatings. Reid said that he and Singh were the only two officers present and that they did not beat or torture the accused.
Meanwhile, based on an application by the defence, the caution statement of Dwane Williams was tendered in the trial. Dwane Williams, who was previously charged with the murders, has become a witness for the prosecution. On Monday, he testified that the gang, which included Hyles and Mark Williams, committed the murders in revenge for the disappearance of Rondell 'Fineman' Rawlins's girlfriend
Hyles and Mark Williams are accused of murdering 48-year-old Clarence Thomas, his 12-year-old daughter Vanessa Thomas and his son Ron Thomas; 32-year-old Mohandai Gourdat and her two sons, four-year-old Seegobind Harrilall and ten-year-old Seegopaul Harrilall; 22-year-old Shazam Mohamed; 55-year-old Shaleem Baksh; Seecharran Rooplall, 56, his wife Dhanrajie Ramsingh, 52, and their 11-year-old daughter Raywattie Ramsingh, on January 26, 2008.
The trial will continue day.
Around the Web