Annai, North Rupununi resident Stephanie Bartholomew has regained sight in her right eye, three years after going blind.
Bartholomew, 52, earlier this month underwent cataract surgery at the new National Ophthalmology Hospital, at Port Mourant, Berbice the Government Information Agency (GINA) reported.
Health Minister Dr. Bheri Ramsaran, GINA said, was approached by the woman's husband, Richard Bartholomew, who informed the minister of his wife's condition during a health outreach in June.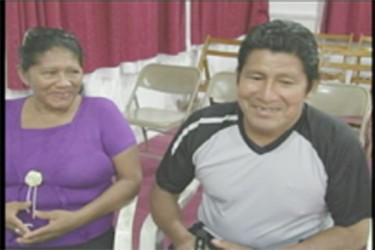 The man told Minister Ramsaran that medical teams would visit but when his wife sought treatment she was told that nothing was wrong with her eyes. The visiting teams continued to tell her that nothing was wrong while her sight deteriorated, until she became blind.
After the man's approach to the minister, GINA said measures were put in place for Stephanie Bartholomew to travel to Region Four to receive medical assistance.
According to GINA, the Health Ministry provided funding for the couple to travel to Region Four, where Stephanie was examined at the Diamond Regional Diagnostic Hospital. Doctors at the facility, upon realising the severity of the woman's condition, referred her to the Ophthalmology Hospital, where she was diagnosed with cataract and an eye infection. She was treated for the infection and subsequently underwent surgery on July 14. After a successful operation, Stephanie can now see in her right eye.
A "very emotional" Stephanie thanked the Minister of Health along with the surgeons of the National Ophthalmology Hospital and everyone else who have helped her to regain her sight. She is now awaiting a surgery on her left eye, which is scheduled to be conducted in the next three months, GINA said.
Around the Web