It was a fierce battle for the title between defending champions
Headquarters and 'A' Division Friday night battled fiercely for top honours before Headquarters prevailed successfully retaining their title at the conclusion of the Guyana Police Force annual inter-division track and field championships at the Guyana Police Force Sports Club ground.
Headquarters ended on 509 points   to 471 points by 'A' Division who led initially.
Country Division, on 198 points placed third and 'B' Division, on 142 points, fourth.
For the first time, the championship concluded with three joint female champion athletes, Natasha Alder, Alita Moore and Janella Jonas.
Each athlete ended with 30 points.
Alder dominated the field events while Moore and Jonas were dominant in the sprint and distance events respectively.
The male champion athlete, Kevin Bayley, won the men's 800m and 1500m and    placed second in the 400m final while Nadine Rodrigues and Julio Sinclair were adjudged the female and male runner-up champion athletes.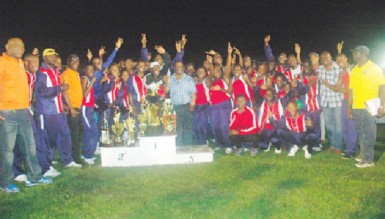 Leroy Brummell, Acting Commissioner of Police duly presented Headquarters with the winning trophy and declared a first place prize of $250,000 to the champions.
Headquarters has no won the championships for a record 19th year.
Brummell also announced a $50,000 reward to Coach of Headquarters, Lyndon Wilson who led his team to the historic win.
'A' Division, after giving Headquarter a run for their money, won $175,000 with Country Division winning $100,000. An additional $100,000 was pledged to 'A' Division by their Commander, Derrick Josiah. Josiah indicated that the additional money was for their effort in challenging Headquarters.
Pledges of $50,000 each were also made to the male and female champion athletes by the Brummell.
Meanwhile, 'A' Division's Shawn Semple, who has an injured shoulder, took the spotlight in the men's 400m final in the absence of Headquarters' star athlete, Winston George, who is presently on a four-month training stint in the United States of American, sponsored by the Guyana Police Force.
Semple, after being disqualified from the men's 200m final, raced around the 400m track and returned a time of 51.7 seconds ahead of Kevin Bayley from Headquarters' who clocked 52.1 seconds for second place. Edward Da Silva was third in 53.4 seconds.
Moore recorded another victory in the women's 400m final winning in 1:01 seconds. Nadine Rodrigues registered 1:05 seconds for second place ahead of Tracy Moses who clocked 1:08 seconds.
Headquarters tugged away with the men and women's Tug-O-War final ahead of 'B' Division.
Action in the Men's 4x400m relay saw Semple, who received the baton in third place, crossing the finish line first handing 'A' Division a victory over 'B' Division and Headquarters. The team of Jayon Johnson, Larry Josiah, Yoel Benjamin and Semple record 3:40.6 seconds ahead of 'B' Division's 3:42 seconds and Headquarters' 3:43 seconds.
The results were the opposite in the female's 4x400m relay as Headquarters' team of Moore, Rodrigues, Dellie Williams and Natasha Alder ran away with the event recording 4:29 seconds.
Country Division created history in the men's 4x100m relay with a first place finish in 46.2 seconds while 'A' Division clocked 47.2 seconds ahead of Headquarters' 47.4 seconds for second place.
'A' Division's female team of Tenisha Punch, Cindy Fraser, Tandika Burgess and Shanna Thornhill clocked 53.5 seconds ahead of Headquarters and 'B' Division who had 53.9 seconds and 1:03.5 seconds respectively.
Headquarters (56 seconds) won the female 4x100m ranks relay ahead of 'A' Division and Country Division while Country Division's male team ran away with the 4x100m men's rank relay head of Headquarters and 'A' Division.
Around the Web