The mother of Satish Gobin is once again seeking financial assistance for her son to undergo another renal transplant in India which would essentially save his life.
As reported Gobin previously had a kidney transplant in India for end stage renal failure which brought him out of a severe uremic state, ultimately saving his life. Unfortunately, despite medical follow up both at the Georgetown Public Hospital and via correspondence with his renal surgeon in India, his transplanted kidney has now started to show evidence of transplant rejection. The surgery costs US$25,000 which includes all expenses.
When Stabroek News contacted his mother she stated that the Ministry of Health had assisted her with US$5,000. "I want to urge the public for assistance to take my son back to India for surgery," cried the woman. "He doesn't want to come into this world and go back," she added.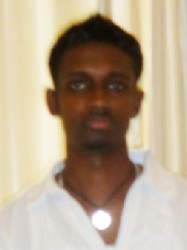 The distraught woman said she would be extremely grateful if the public would come to her assistance and save her son's life. She said that everyday her son cries in pain and if the surgery isn't done urgently her son would be taken away from her.
Persons willing to render assistance can deposit in Republic Account number Acc#164-859-1, or can contact his mother, Shureen Ragbeer on telephone numbers 276-0953 and 662-7872.
Around the Web