Vendors at the intersection of the Kitty Pump Station and Carifesta Avenue were yesterday given seven days to remove from the location by the Ministry of Public Works.
"They can't be there. They were told that they can't be there and were relocated to spots west of where they are… they are an encumbrance on the road and they have to move," Minister of Public Works Robeson Benn told Stabroek News.
He said that the vendors were told "a long time ago" that they would have to move as they were in violation of the laws.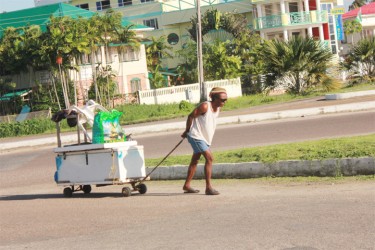 The notice given to vendors, which was dated July 30, 2013, advised that they had been found infringing on the public reserve and instructed their removal within seven days of its posting.
However, the vendors lamented that their activities have only been good for the area and they said the fact that there has never been an accident involving their equipment or complaints of dirty surroundings are evidence of this.
"Put aside that we have children to feed and send to school or that we are here for 15 plus years, what can they say we do wrong? We never had an accident this side and when people come to use the seawall is here they is park because they know they come back and nothing gone," 60-year-old Haline (only name given) told Stabroek News.
The grandmother of eight said that for over six years she has been selling confectionaries and drinks at the location because it keeps her active and allows her an income that is enough so that she does not have to rely on her children for support and can offer her grandchildren occasional monetary assistance.
She said she arrived at the location sometime after lunch yesterday and thought it strange that no other seller was there. She said that a fellow vendor later turned up and handed her a letter explaining that all sellers in the area were served with same yesterday morning. The woman complained that she felt the treatment meted out to them was unjust as they "take care" of their immediate environs daily and watched out for vehicles parked nearby. She said that joggers and other persons using the seawalls are elated to find vendors as most times through their routines the joggers would stop to purchase water and families would buy other snacks to munch on as they walked or sat to enjoy the sea breeze.
"Robeson can't say here is dirty because every religious day we is clean up. We have garbage bins for the customers and we is encourage them to throw the rubbish in it. We take turns to sweep up and ask anybody here is the cleanest place on this seawall," she said.
"It is unfair to tell us move. Where will I go? Up there (as she pointed to the west)? That is way past GT&T halfway to Camp (street). That is sending we to get rob every day because down there lonely and thief man heaven," she added.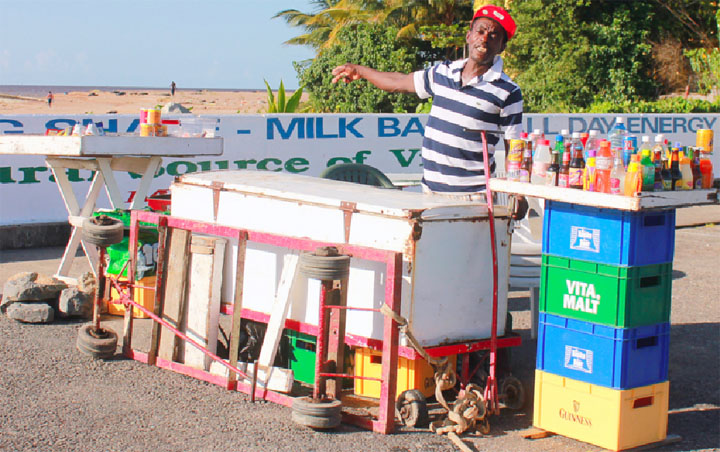 Another vendor, Gordon Williams, 40, sat holding his jaws when Stbaroek News approached. Asked why his perplexed look, he explained that he had not yet arrived yesterday morning when the notice was given and was pondering what were his alternatives. He said that since he went prepared to sell, he displayed his items and would stay and sell "and see what happens later." He stated that he was a father of four minors and that while his vending does not rake in large amounts of profits, it was enough to take care of his family.
"School opening just now and I have to get them things… I know about selling. What they want me go and do? Where they want me go? They want me thief? Well I ain't a thief. Sorry. I work hard for my bread. I here for 15 years and not a problem. Now, one day they ups and say we must go? Nah man, that ain't right," he said.
There was also 65-year-old Dolly Williams, who takes care of her six grandchildren. She said that she was at the location for over 30 years. Yesterday she could not speak with this newspaper as she went with other vendors to try to get an audience with Head of the Presidential Dr. Roger Luncheon. They were unable to do so and it is unclear what their next move is.
Around the Web