-family had been plagued with domestic violence
By Tifaine Rutherford 
An East Bank Essequibo man went on a chopping rampage around 6pm at Zeelugt North, Squatting area yesterday, killing two children and badly wounding his reputed wife before fleeing the scene.
Five-year-old Kimberly Houston and her brother two-year-old Ahmad Lord of Lot 867 Zeelugt Squatting, East Bank Essequibo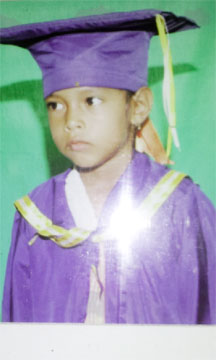 were hacked to death by  26 year-old cane-cutter Richard Lord, who is now on the run, while their mother, Nazalena Natasha Houston, 21, called 'Natasha,' is now in a critical but stable condition at the Georgetown Hospital after she was transferred from the Leonora Cottage Hospital.
Houston sustained chops to her right shoulder and part of her hand was severed. Her fingers on the left hand were also chopped off and she is nursing three stab wounds to her abdomen, relatives said. Houston's neck was severed and Lord sustained injuries to his head.
Relatives of the family were plunged into a state of mourning and shock after they saw the lifeless bodies of the children and their badly wounded mother.
No one could say what exactly caused the brutal attack but Houston's relatives said that she was a victim of abuse and moments before she and her children were found, screams were heard coming from her home. They also said that reports were made to the police about the abuse in the past but could not say if Lord was ever arrested or charged.
Houston's older sister, Nazeema, said that her brother in-law was always in the habit of beating and arguing with her sister and accusing her of being unfaithful. She said that last Friday her sister had left the home and had only returned yesterday. She added that the two were in a relationship for the last seven years.  "Today she called him and tell him that she going to the welfare in Pouderoyen and the two of them reach up there and like he bully she and bring she home like 12 o'clock."
Nazeema related that her now dead niece ran over to the house around 5pm and shouted to her grandmother that her father planned to kill all of them. "Kimberly start shout how daddy say he gon kill all of we and hang heself and that we must call the police. Mommy turn and tell she if he want hang heself leh he go somewhere else cause she ain't want no dead body here."
She said that her mother later rushed over to the house but Lord had already locked the door. "We hear a sound like if he lashing she, but we ain't know is chop he chopping she. Mommy pick up a wood and he open the door and push she down in the mud, jump the fence and gone running in the coconut farm at the back. He nearly kill mommy cause he had the cutlass in he hand and she thought he woulda chop she too. "
The woman said that when she got to her sister, she was talking and asking her to check on the two children. "She say Nazeema see wah wrong with mi two children them nah. I didn't even know that the children dead at the time. Is when I turn then I see the two bodies on the ground."
According to reports, the woman was the first to be attacked.
Houston's brother in-law Naresh Samaroo related that he was at his home, located opposite the cottage Houston shared with Lord, when he heard her screaming for help.
He said that Houston's sister, who is his wife, told him when he came home from work that the couple had gone to a probation officer yesterday. He said that it appears that they were about to separate so they went to sort out who will have custody of the children. On Friday, Houston was beaten by Lord and she, in the company of her mother, went to the police on Sunday to make a report Samaroo added.
Samaroo said that when his wife told him this, he stated he and the couple would have talked later about their visit. The man said that he fell asleep and when he got up he heard Kimberly crying and "me seh man again he a go beat up dem children. Wah really happen to he?"
Samaroo related that he thought the child was suffering one of her usual beatings because "if the girl ask fuh lil extra food he beat the girl."
About ten minutes after, he recalled hearing Houston screaming "mammy mammy come help! Me go dead."   He added "I seh something wrong and I run over."  While he was going to investigate what might have caused Houston to say those words, he saw her mother being "chucked" down the stairs by Lord. Houston's mother's home is in front of the couple's home.
Samaroo said that his mother in-law told him that Lord had run away and he proceeded to go inside the house. He said the place was a bit dark and they did not know that Lord had killed the children and chopped his reputed wife.
To aid his vision, Samaroo said he took a torchlight and shone it on the flooring of the house and that is when he discovered Houston lying on the floor. He explained "the boy lie down right side he mudda left side and de sister lie down behind he. When I shine de light I see de lil girl neck get chop off."  The children were already dead by this time, relatives stated.
Houston was moaning in pain and collapsed shortly after. Lord hails from Wales and would consume alcohol regularly but was sober at the time of the attack.
Last September Jennifer Persaud, 41 years, of Anna Catherina, WCD, and her two sons Afridi Persaud, 6 years, and Jadon Persaud, 1 year 3 months were found dead in their homes with knife wounds.
Around the Web