Relatives of Nazalena Natasha Houston who was severely chopped on Friday evening after her reputed husband, Richard Lord, went berserk and killed their two children say that she is in a stable condition and recalling bits and pieces of what transpired.
Speaking with Stabroek News yesterday, her sister Nazeema said that her younger sister is currently a patient in the High Dependency Unit at the Georgetown Public Hospital on a life support machine. Lord is on the run after murdering five-year-old Kimberly Houston and two-year-old Ahmed Lord at Zeelugt North Squatting Area.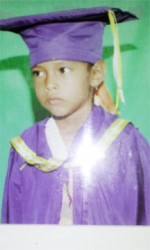 Nazeema said that later in the afternoon when they visited Nazalena, she was able to tell them some of what happened on that fateful evening. "She seh that after she get chop, she see when he chop Kimberly behind she neck and then chop Ahmad on he head."
Nazeema said that from her hospital bed, Nazalena told family members that the two were arguing and he was telling her that he was going to kill her and she should see which family or neighbour would help her. "He de telling she how leh she holler for help and see who gon come and help she. She deh asking we all the time if the police catch him as yet."
Family members described the relationship between the two as rocky since Lord was always in the habit of accusing Houston of being unfaithful. "Somebody come and tell he that she went out a night when he wasn't there. My sister never had no other man with he. She used to deh like a Cinderella lock up in the house. When he ain't deh she never used to sleep home, she used to come in front by mommy and sleep," Nazeema said.
Nazeema related that last Wednesday her brother-in-law had dealt her sister two lashes with a cutlass but she did not make a report to the station. "She pack a bag and left last Friday with them children, but she didn't say where she was going. She used to always call mommy on a private number and when mommy ask she where she deh she used to just say she deh far. Up to Friday when they come back mommy ask Kimberly where they went and mi niece seh that she na know where they went but they used to stay by some people house."
She said that shortly before the attack, her niece had run over to tell her grandmother that her father was threatening to kill them and himself. "Kimberly run over and tell mommy call the police and then he start shout for her to come home and when she reach there he locked the door and start fire chops and when mommy de trying to open the door it de locked."
She stated that her mother had made a report on Sunday at the Leonora Police Station that her daughter and son in law were having problems, but nothing came out of that report.
According to the woman, the two had met when Nazalena was only 14 years old and that they used to reside in Berbice before moving to Zeelugt recently. "Natasha get Kimberly when she was only 14 but he (Richard) couldn't sign for she because the probation officer say that she underage. They only move back here when Ahmad was a baby, all the time they used to live in Berbice."
She added that her sister had also said that she was going to end her life and that of her children because of the constant abuse she used to face at the hands of her reputed husband. "We really didn't expect him to do this. They used to always get it out and so but no one saw this coming."
Family members had gathered at the home yesterday, and were making funeral preparations for the two children, whose post-mortem examinations are to be conducted today. They said that they are hoping to bury them today.
Up to press time, Lord was still on the run and police investigations were ongoing. After chopping his reputed wife and killing his children, Lord fled into a coconut farm behind their house, and hasn't been seen or heard from since.
Around the Web