The partially-decomposed body of a missing man was yesterday found in a trench at Barnwell North, Mocha, East Bank Demerara, a few yards away from his home.
Delon Melville, 26, of Lot 132 Nelson Street, Mocha, had been missing since Monday evening, family members said. A caller using his phone later contacted his family and reported that he was dead, prompting unsuccessful attempt to locate Melville and the caller.
However, a group of men who were heading out to catch birds found his body around 6:30am yesterday after they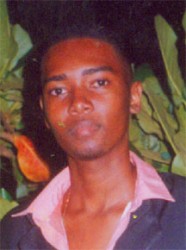 came across the distinctive unpleasant odour coming from the backdam. Upon inquiring, the men found Melville's body inside of a drain.
A visibly-distraught Melissa Haynes, who wept non-stop at the loss of her youngest brother, stated that she received a phone call from her cousin about the discovery. Haynes further stated that, upon receiving the news, she ran to the backdam. "His body been there so long, I coulda barely recognize him, is because of his hand band and a birthmark on his legs mek ah know is he. He was naked, he just had a shirt on his face, and I don't know who would do this to him," she told Stabroek News.
"This thing happen right in this village, 'cause when he left this house, the way he was dressed, I know he wouldn't leave the village like that. Is someone he knows did this to him," Haynes added.
Melville's body was removed from the area where it was found at around 10:25 am. Police, in a brief statement, subsequently said that they were awaiting the results of a post-mortem examination as the investigations continue.
Dennis Melville, the brother of the dead man, stated that the former employee at Guyana Stockfeeds had been watching a movie with his nephew when he received a phone call on his cellular phone on Monday. He then told his nephew he would be right back and left. That was the last time he was seen by family members. Attempts to find his brother were unsuccessful since the family searched all over the village after Melville went missing, according to his brother.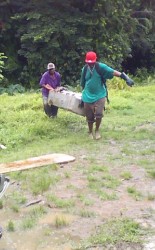 When asked whether he had any idea what happened to his brother, Dennis stated that he believed his brother was murdered because of visible attack marks on his body. He further added that he had no idea who would have done this to his brother since he was a homebody and attended church regularly. The only place he would go was further up the street to hang out with a few of his female friends, he also said.
Muriel Vickerie, mother of the deceased, stated that after Delon disappeared, her daughter received a phone call from Delon's phone number. The caller, who identified himself as Junior, said "I got bad news fuh yuh, Delon dead." She said that when her daughter asked where they could find his body, the caller said he would call back with that information but never did. "We went to the police station and made a report and dem push we around, them say that they gotta check into the phone records and that we should come back the next day at 9am. When we go back to the station, we waited until 2:00pm and the police ain't come to our assistance. We also went to Digicel and they traced his phone to Meadowbrook Gardens," Muriel stated.
Police, in the brief statement on the discovery, confirmed that the man had been reported missing since Monday. (Erica Williams)
Around the Web