Five persons, including the pilot, aboard a small Remote Area Medical Outreach (RAM) plane escaped unhurt after the aircraft crash landed at the Aishalton runway in Region 9 on Friday afternoon after its front wheel came off.
The six-seater American operated Cessna came to a halt after it hit the runway fence. No one was injured in the incident. The aircraft was under the control of an American pilot at the time.
Head of the Guyana Civil Aviation Authority (GCAA) Zulficar Mohammed, said when contacted that he was unaware of the incident.  But aviation sources noted however, that the operator of the aircraft may not yet have reported the incident as required by law.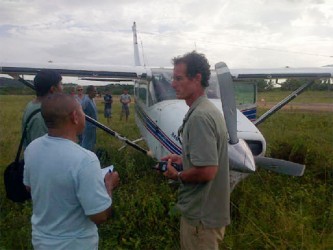 One of the passengers, Edgar Simon, told Stabroek News that he along with a doctor and two volunteer student nurses from New Zealand were heading to Aishalton from Gunn's Strip (South Rupununi) where they had carried out a medical outreach. He said that the plan was to drop off the passengers and then collect patients from Aishalton to take to Lethem because the weight of the plane would have been too great otherwise.
According to Simon, when they approached the runway of Aishalton at around 4pm, the front wheel of the plane came off as they touched down causing it to slide on the runway. Following this the propeller came off and the plane came to a stop by the runway fence, which acted as a barrier. They then evacuated the plane and had to get a ride to Lethem in a vehicle, Simon said.
Simon also stated that if the fence had not been there the plane would have crashed into the nearby houses. The aircraft carries out medivac services in the Rupununi area. Simon also described the landing as being his worst and said that he was scared throughout the ordeal. He said too that "everything happened so fast I was unable to register what really happened."
On July 15 an Air Services Limited (ASL) aircraft crashed into thick vegetation about a mile from the airstrip at Matthews Ridge, North West District, resulting in twelve of the thirteen persons on board, including the pilot, sustaining injuries.
Around the Web