The turbulent relationship of a Jonestown, Mahaica couple ended tragically early yesterday morning when Ryan James murdered his wife of two years and then killed himself by ingesting poison.
A bloody Vanessa Richmond-James, 26, was discovered at the couple's Lot 125 Jonestown, Mahaica home with a slit throat and multiple stab wounds about her body.
James, 30, ingested a poisonous substance after the attack and ran to neighbours, who rushed him to the hospital, where he succumbed.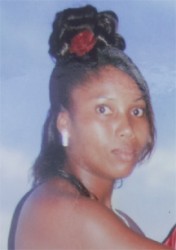 Police, who identified James as the suspect in his wife's death, said that her body was discovered around 6am, while family members said she was last seen alive at a 'queh-queh' in the village around 11pm the night before.
Sheila Lewis said neighbours recalled hearing loud music coming from the home and that her son-in-law probably carried out the attack at that time so that no one would hear when he was murdering Vanessa.
She last saw her eldest daughter at the 'queh-queh' on Friday and learned about the discovery yesterday morning. "When I was coming home around 2:30am I pass by Vanessa and start call out for she but I ain't hear anything so I lef and come home with another sister. I end up dropping to sleep and I wake up after I hear one of my husband's nephews shouting for him," she told Stabroek News.
Lewis said that when she came out to the man to ask him what the problem was, he asked her if she heard the news that her son-in law had ingested poison. "After he ask me if I hear my son-in-law drink poison, I lef with a speed and go by she and some neighbours tell me that Ryan drink poison and that they gone with he to the hospital and that I should check in the house," she recalled.
She said that her daughter, Carol, ventured into the house and hollered out that Vanessa was tied up inside. "Mi daughter, Carol, go in and she holler look Vanessa in the house tie up. When I go, I see she on the mattress and I say she done dead and I mek one big holler and get blackout," she added.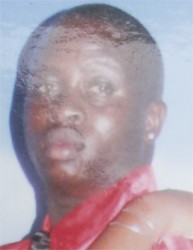 Lewis said that her daughter was only clad in her underwear, with a pillow over her head and a cloth in her mouth with multiple stab wounds about her body. She noted that her grandson, who lived with the couple, had been left with his other grandmother.
The woman said that her daughter had confided in her on Friday that she wanted to end the relationship and when she asked why, she said that James was always accusing her of being unfaithful. "I say, 'Man, dah is the little problem? Every marriage does get and for the little boy sake she should work it out."
Esther, one of the dead woman's sisters, said that she was home when she got the news from another sibling that Vanessa had been murdered. "I was home when my other sister called and said that Ryan kill Vanessa and was on his way to the hospital after he drink poison," the woman said.
According to her, she was told that her sister was lashed repeatedly with a hammer and her throat slit. She said that the two, who were in a relationship for the last ten years, were married two years ago. When asked if they were having marital problems, she said that her brother in-law used to call her and complain about her sister. "He used to always call and complain to me that she get another fella with he and that every time he go to work and he call she phone he never getting through. He even used to question my nephew if anybody does call she phone or come by them when he ain't deh home. My sister had no other man. She used to be home all the time or by my mother. She never used to go anywhere," Esther said.
The woman also stated that a diary was also found in the home where her sister had written about the constant abuse she had suffered at the hands of her husband. In one of the entries, which dated back to 2008, she wrote that James was going to chop her with a cutlass because she had loaned one of her sisters a washing tub.
The attack came on the heels of two other brutal domestic violence cases. On Wednesday last, cane cutter Richard Lord, of Zeelugt, East Bank Essequibo hacked his two children, five-year-old Kimberly Houston, and her two-year-old brother, Ahmad Lord to death and severely wounded their mother, Nazalena Natasha Houston. He has not been seen since.
The following day, Shawn Fordyce went berserk and launched a cutlass attack on his reputed wife, Dorothy Blackman, her two daughters and a granddaughter in their 'D' Field Sophia home. He too is on the run.
Around the Web