Wanda Fortune, one of victims of last Thursday night's violent cutlass attack on three females at Sophia, is decrying the slothful response of the police, saying it gives her no confidence even as the alleged attacker continues to make calls to the family promising to finish them off.
"He called saying that we get life like cat and that he coming back to finish we off… but it makes no sense trying with police because on the night of the attack I called several times and even after we were left for dead four different neighbours went to the station before they came," the 26-year-old lawyer told Stabroek News on Friday.
Fortune, her mother Dorothy Blackman, her younger sister Donette Fordyce and her two-year-old niece Leah Thomas were brutally chopped after Shawn Fordyce went berserk and launched the cutlass attack. Blackman is his wife, while Fortune is his step daughter.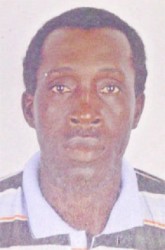 Blackman and her daughter Donette remain patients in the High Dependence Unit (HDU) of the Georgetown Public Hospital, while Fortune and her two-year-old niece were given medical treatment and discharged to return for follow-up visits.
Fortune is the third of Blackman's six children. She currently works with the Legal Aid Clinic. She was last October admitted to the bar and gave a memorable speech about overcoming odds to achieve her degree. She had praised her mother, a newspaper vendor, who took time out to mentor her and was her rock throughout her journey. She is the first in her family to have made it so far academically and had hoped others would emulate her.
On Friday, as she recalled the terrifying ordeal, the young lawyer said that she believed that her stepfather had meant to "wipe out" his entire household of eight and that his act was premeditated as he had hidden the cutlass before the attack.  In addition, she said that all night the man was making snide remarks about the family.
The attack occurred soon after her mother had indicated that she was going out. The man kept muttering to himself, Fortune recalled. "It was about 9.30pm and mom was preparing to go out with her sister and a friend and he started quarrelling, telling her that she should stay home. She at first began complaining that he never took her anywhere and when they were invited out he turned down every request," Fortune said.
Nonetheless, her mother indicated to her father that she would once again stay home. She did, however, leave with her two-year-old granddaughter in hand to purchase a phone card from the shop next door.
"I was in my room and when I came out I saw Donette bloodied and screaming telling me to run that he wanted to kill us," Fortune recalled. She said that her sister collapsed shortly after and just after she saw her cutlass-wielding stepfather, who then began chasing her and threatening to end her life, she fled. However, he soon caught up with her and chopped her twice, after which the cutlass fell out of his hands. She said he held on to her dress as he reached to the floor scrambling to grab the weapon. Thinking quickly, Fortune pulled the dress over her head, leaving it in her stepfather's hand as she ran in a semi-nude state to her neighbour's house. The man kept screaming that he will "done everybody dance tonight" and "teach all a y'all a lesson" as he continued searching for his weapon. It was only after a brave neighbour armed himself with a cutlass and confronted Fordyce that the man fled the scene.
From there, Fortune said that the neighbours began calling for the police but all the numbers rang out. She said that different neighbours rushed to the station but it was only after the fourth person had informed them that there was a possible triple homicide that they arrived. "When I was in my room I had been began calling for the police even before the attack, dialling, redialling, all the while and never get them. Another man ran there and they told him to come back at around 2am and make a report…. You mean four times and only when they think is death they are going to come? The police has to do better than this," she said.
Even the vehicle used by police to travel to the scene was defective as it soon developed mechanical problems.
Asked if her stepfather had displayed violent tendencies before, Fortune said no, but noted that after her admission to the bar his attitude changed and he began verbally abusing her mother, saying she was no longer dependent on him. "He would always throw remarks at her, you know, saying, 'Yuh daughter tun lawyer now yuh getting yuh money real. You don't need me.' And it seemed that he was angry that I had made the bar," she said.
Fortune believes that her stepfather, who originally hails from Belladrum, Berbice, will return to kill her family and she is pleading with the police to intensify their search for the man.
Police have said that investigations are continuing into the incident.
.
Around the Web