Economic violence against poor people has a particular impact on Guyanese African women and by extension, the children which some of them raise on their own, says Red Thread co-founder and international coordinator, Andaiye.
The remark was made before a packed audience yesterday afternoon at the ACDA headquarters in Thomas Lands during a Conference on the State of Black Africans in Guyana, organised by The Ghana Day Committee in collaboration with the Cuffy 250 committee.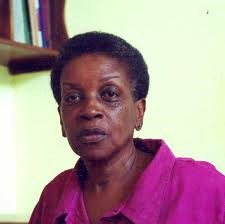 Andaiye, tasked with presenting on the issue of violence against the African woman in Guyana, proposed that violence against women, whether physical or economical, does not favour any class, race or gender, and added that the reports in the various dailies are a testament to the fact that violence is perpetrated against but not limited to African Guyanese women.
As it relates to economic abuse, Andaiye said that political decisions, which do not specifically target poor women, have negatively impacted their means of earning a living. She said that the structural adjustment or austerity measures in particular, which developing countries, including Guyana, have implemented because of the necessity of sourcing financing from the International Monetary Fund (IMF) and other such institutions have hit the areas where this group of women   are concentrated (e.g. the public sector).
Another policy, she said, which is impacting women and hurting families is the Free Movement of People across the various Caricom countries. Under agreements in the Caricom Single Market and Economy, Domestic Workers and Artisans are now able to move across borders in search of a better income to support their children.
She said though, that the policies do not make provisions for the children of the migrating Domestic or Artisan to move with them. The children, many of them not having the convenience of residing with an extended family, are left in the care of one or several guardians.
She said that Barbados and other Caricom countries are now saturated with Guyanese mothers and their fathers, working to ensure that their children in Guyana are taken care of, adding that "this needs to be looked at."
Andaiye added that the non-payment of the minimum wage to women who fall into the bracket of the low-income earners is also on the list of economic situations which impede their development. She said that many women, especially, domestic workers, have reported and continue to report that they are being refused  the minimum wage by their employers who believe that the figure of $35,000 per month recently announced by the Ministry of Labour is too much.
Andaiye also pointed out the destructive effects of physical violence. She said that there is no evidence to suggest that domestic violence is more prevalent in African homes than in Indian households, and added that recent reports show that knives or cutlasses have become the preferred weapons for those who perpetrate domestic violence to a lethal level.
What is usually different, she said, is the reason for the attacks, which can range from claims of infidelity, to non-submission.
Andaiye said that the women who are fortunate enough to survive these attacks and distance themselves from the attacker now face a new challenge of moving on and making their lives better. The injuries they sustain (which can include mutilation), she said, can determine the time it takes to complete tasks, find employment, how people treat her, and it can also determine if any other man will be interested in her.
Andaiye said that some of the women subjected to the various forms of abuse alluded to have been able to successfully ensure that they move themselves and their children forward, although many have failed to do so.
What is need, she said, is for there to be serious discussions and similarly serious undertakings by the Guyanese society to address the issue. In the stead of such undertakings, she said that the issue continues to be trivialised.
Around the Web