An airport taxi driver died instantly yesterday morning when the car he was driving slammed into a sand truck in the vicinity of Land of Canaan on the East Bank of Demerara.
Sooklall Roopnarine, known as `Blinky', age 42, of Soesdyke also on the East Bank of Demerara was making his way back to the Cheddi Jagan International Airport, Timehri where he worked, around 7:30am when he overtook a car and crashed head-on into the truck.
A member of the public said that the taxi driver seemed in a hurry as he was speeding and overtook many vehicles prior to the last car. "He speed past we and when we see the traffic backing up we know it was he in a accident. We didn't know he dead but I tell me girl bet yuh is that taxi…when we get by S&T he done dead, the car fold up and no way he could a survive that," Rawle Booker told Stabroek News.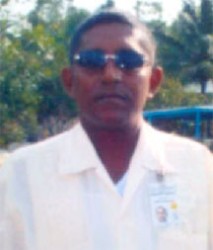 Roopnarine was driving Toyota Carina HB 8254.
His sister related that her brother left home around 1am yesterday to begin working as all of last week he did not get any jobs. She said that the family was shocked that he had been in an accident since he was a cautious driver. He had worked as a taxi driver operating from the CJIA since 1998.
The man who had no wife or children lived with his mother and was her help and provider. As such, yesterday she was devastated on learning of his sudden demise. She recalled that on Sunday he and his sister had left home for Laluni and had watched cricket. On his return home he had complained of the hardship of obtaining work at the airport but decided that he would go early to see if things would change.
She said that she learned that the man had arranged a job to take passengers to the city and was making his way back to the airport when he died.
His relatives described Roopnarine as very loving and a cricket enthusiast who was family oriented. He enjoyed assisting his family with household chores.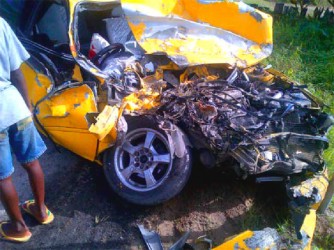 The driver of the truck is in custody assisting the police with investigations.
Around the Web