Four police officers were sentenced to 18 months imprisonment each last Friday after being found guilty of assaulting businessman Nizam Khan.
The sentences yesterday sparked a demonstration outside the building housing the Georgetown Magistrates' Court on Middle Street, where protestors said that the decision against the men was unjust.
Police officers Kevon Smith, Jermaine Scott, Marlon Gonzales and Wilwert Watts were on Friday sentenced by Magistrate Judy Latchman, who presided over the matter.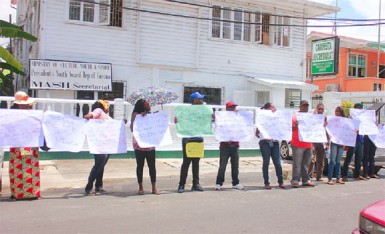 The charge against the men stated that at Grove, East Bank Demerara (EBD), they unlawfully and maliciously assaulted Khan, so as to cause him actual bodily harm.
The jointly charged quartet was arraigned on September 7, 2012 and at that hearing each man denied the charge levelled against him and was admitted to self-bail.
A trial subsequently commenced in their matter and ended on Friday last when they were found guilty of unlawfully and maliciously assaulting Khan.
The prosecution's case stated that on July 14, last year, the police officers were on a mobile patrol along the EBD public road when at about 6pm they observed a build-up of traffic where Khan was seen. As a result, the policemen confronted Khan at his business place at Grove, and told him that he was under arrest.
Prosecutor Gordon Mansfield, at the first hearing of the case, said that Khan inquired about the reason for his arrest from the police officers and then walked away. It was then that he received a number of simultaneous punches and slaps about his body, allegedly from the policemen.
Mansfield added that Khan was then taken by the policemen to the Grove Police Station and on the way to the station he received more punches and slaps from all of the officers.
Khan reported the matter at the police station and was sent to the hospital, where he received a medical certificate, which stated that there was swelling all over his body. The policemen were subsequently charged.
The protest yesterday included family members and friends of the men, who carried placards bearing the common contention that they were only doing their job.
Activist Mark Benschop, organiser of the protest, argued that the judgment was unfair.
Meanwhile, Gonzales' father Nigel told Stabroek News that he has always encouraged his sons to serve in the police force but that since the incident, his two other sons who were also in the force, have quit. The elder Gonzales said that he did not want the same fate to meet them.
He stated that Marlon had been in the force for five years, after joining at the age of 17.
He contended that his son was just doing his job. "He was doing his job, I always taught him to do the right thing in the police force, any problem, and I always tell him to do the right thing," he said.
Around the Web